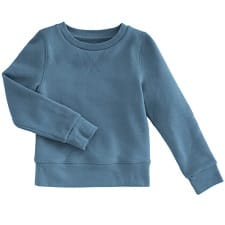 Moms, have you noticed that you can find a ton of affordable kids' sweaters, but because they're so affordable, your kid inevitably says, "They're too itchy!" and refuses to wear them? On the flip side, sweatshirts are comfortable — but it's incredibly difficult to find basic sweatshirts that fit well and can just be thrown in the washer and dryer without worrying about them. I've gotten a lot of sweatshirts at Old Navy and Gap, but they don't have them all the time, so it's great to see that Primary has a sweatshirt in sizes 2/3 to 10/12 — in 12 colors! They're 80% cotton and 20% polyester, and they're warm and cozy — the description says it feels like "wearing a marshmallow hug all day." (And really, what mom doesn't want that for her child?) They're $20 each or $19 each if you buy 3 or more. 
Primary Clothing: The Sweatshirt
Sales of note for 12.7.23…
(See all of the latest workwear sales at Corporette!)
See some of our latest articles on CorporetteMoms:
Click here to see our top posts!
And — here are some of our latest threadjacks of interest – working mom questions asked by the commenters!