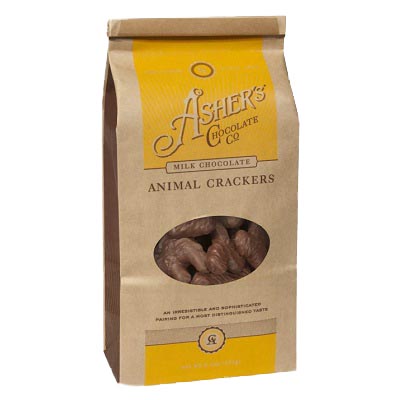 My mom found these chocolate covered animal crackers from Asher's Chocolate Co. at Wegmans and raved about them. After we tried them and also fell in love, we ran to our local Wegmans and found that the brand makes chocolate covered graham crackers and chocolate covered pretzels, too. They are also absolutely amazing.
I am usually a dark chocolate person, but the milk chocolate is so incredibly good and rich I don't think I need to try the dark. You can order directly from the website, and they have gift boxes that anyone would love to receive.
I'm almost sorry I tried these, because there's no turning back.
One bag of the animal crackers is $7.50 (flat rate shipping of $15, so make a big order!) at Ashers.com — or try your local store (check their website). Milk Chocolate Covered Animal Crackers