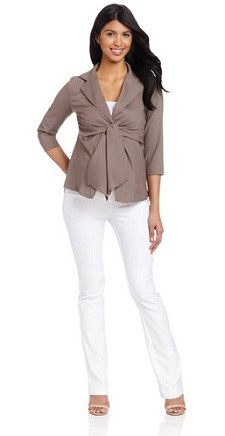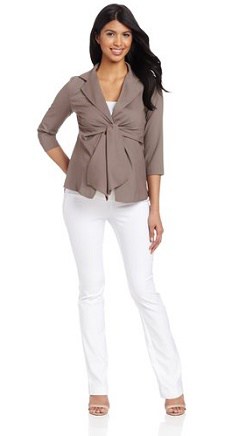 I was looking through comments on a recentish post, and some lucky reader scored a major sale on this blazer — which I immediately recognized as the very same blazer I had bought during my first pregnancy, probably a good five years ago at this point.
It was one of my favorite blazers for pregnancy. (Admittedly I only had two maternity blazers — this one in gray, and a boyfriend ponte blazer from Pea in the Pod or some such — and in my second pregnancy was able to keep wearing my regular blazers).
It's always calming (and exciting in a weird way? I'm such a shopper) to find a gem that a company keeps making.
Indeed, Amazon has the same blazer in beige, a dark maroon, and a more tweedy gray version for $42-$128; there are even a smattering of matching skirts and pants (such as here and here). The pictured color is available for most sizes, XS-XL, for $121. Maternal America Maternity Front Tie Blazer
Building a maternity wardrobe for work? Check out our page with more suggestions along both classic and trendy/seasonal lines.