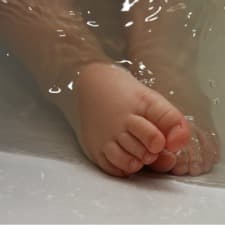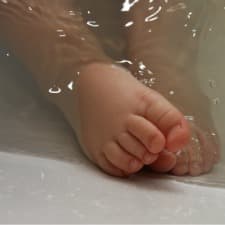 Bathtime with babies and little kids can be many things: fun, relaxing, hectic, boring, etc., depending on your kid's age, current mood, and general attitude toward baths. Have you developed any tips and tricks to make bathtime easier?
First, I'll share a few things we've done at our house to make our son's bathtime easier:
1. Cushion your knees with one of those squishy kneeling pads that some people use for gardening or other home chores, like these. (I think I bought ours from the dollar section at CVS.) They make kneeling on the floor in front of the tub much more comfortable. This product is even fancier and more functional.
2. For a kid old enough to stand when you get her out of the tub, buy a hooded bathrobe like this one. It'll keep her warm without any effort on her (or your part) — when you're getting out the hair dryer, and so forth — and it'll start the drying-off process before you grab a towel.
3. Get a big mesh bag for toys, preferably one that you can hang in the bathroom. Our tiled shower walls have a somewhat rough texture, so we can't use a toy organizer that attaches with suction cups (and I doubt they work very well, anyway). Instead, right now we have a beach bag like this one. We put the straps over the bottom of a shower caddy that is hung on a very secure and sturdy wall hook that uses screws, not a nail. I can imagine some potential safety issues with our setup, but it's worked well so far.
Here are some more tips from working moms to help make bathtime easier at your house:
4. For a toddler who has grown too big for a baby tub and can sit up by herself, put her in a laundry basket in the bathtub so that she's safely contained and can't hit her head on the side of the tub. A laundry basket is also handy when you're bathing a toddler and bigger kid together — that way, the older one can't knock over the smaller sibling.
5. Use a baby bath or bath cradle that lets your baby lie in the water, rather than a platform tub or similar setup. Your kid will be warmer (and hopefully happier) by actually being in the bathwater. Here's one with great reviews.
6. If your baby isn't too steady while sitting, put a inch or two of water in the bathtub and have her lie down on a rubber bathmat — she might enjoy being out of the baby tub because of the extra room to kick her legs, etc. Obviously, keep your eyes on your baby at all times if you do this.
7. Get the right gear: bathtub crayons, foam letters, color tabs, a bath visor, a faucet cover, and baby bubble bath can help make bathtime go more smoothly. (Kat's note: Both of my boys have always loved a glowstick bath! We just bought this 300-piece pack on Amazon.)
8. Play some kid-friendly music, either calming/relaxing or fun/upbeat. (You can always try the classic, "Splish Splash.") For older children, put on something like Tumble, a science podcast for kids.
9. If your bath resister is old enough, let her take a shower instead.
10. "If you can't beat 'em, join 'em": Just get into the tub with your kid!
Share your tips to make bathtime easier! Does your kid enjoy bathtime or hate it? If you have older kids, at what age did they start bathing or showering by themselves? What's your favorite bath gear? 
Picture credit: Pixabay