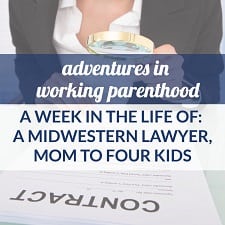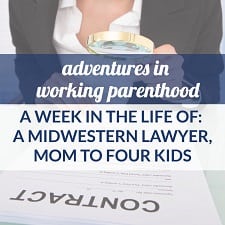 For the sixth installment of our Week in the Life of a Working Mom series, I'm happy to introduce CorporetteMoms reader Elizabeth. She's a 42-year-old consultant/ lawyer mom to four kids; she lives in the Midwest. Our usual caveat applies: Please remember that this is is a real person who has feelings and isn't gaining anything from this, unlike your usual friendly (soul-deadened, thick-skinned, cold-hearted, money-grubbing) blogger — so please be kind with any comments. Thank you! – Kat
If you'd like to be featured (anonymously or otherwise), please fill out this form! You can see all posts in this series here. You can also sort by tag, such as "daycare," "au pair," and "lawyer mom." (We're working on devising a system that makes sense.)
First, Some Basics about this Working Mom…
Name: Elizabeth
Lives: Midwest
Job: consultant/attorney — I lead annual strategic planning efforts for hospital clients, as well as hospital mergers.
Age: 42
Home Situation: 
My husband is family medicine physician who covers inpatients at the hospital every third weekend. We have four school-age children: A, 13-year-old son; E, 10-year-old daughter; B & D, 7-year-old twin sons. We live in a 4000-square-foot house in the suburbs.
Childcare Situation: $18,000/year.
We have had Au Pairs for the past four years. The last two have been males. Prior to that we covered childcare with a number of options: a preschool teacher/nanny, a college student that lived in during the summer, hubby took Mondays off and I took Fridays off. We love the Au Pair help. My spouse and I have schedules that change from week to week, depending on his inpatient load and my travel. Having an Au Pair has eliminated the hours of stress and scrambling with multiple care providers to try to cover different hours we needed. For instance, the preschool teacher was a wonderful caregiver but had a family of her own so was unavailable to help in the evenings or weekends. Fortunately, we have a supportive family network nearby that was able to assist in some of those previous pinches. But it is nice now to have that family come to support the kids' extracurricular activities or have special one-on-one time with the children, rather than serve in the role of an emergency babysitter.

Our Au Pairs transition about every year or so. We have appreciated the ease of picking a new care provider to sync up with the evolving needs of our children. For instance, our first Au Pair was a nurturing female who was excellent with our toddler twins. Or more recent Au Pairs have been active males who play sports and make up fun games to play. I expect in a few years we will be interested in a caregiver that can provide more homework support.
Last Week in My Life
Sunday
Church in the morning for hubby and two older kids only. The twins stay with me to run errands since they are not great about listening and it ruins the service for everyone else. Twins and I go to Target for end-of-year teacher gifts and I somehow spend another $200 on "necessities." We run by the dry cleaner, bagel store, and pick our a few plants for the yard before heading home.
After a simple lunch of PB&J and turkey sandwiches, all of us make a big pitch-in effort on housework. The twins mostly just pick up their Legos and shoes, E cleans up after her many pets (fish, cat, and lizard), and A helps hubby clean out the garage.  I do a mad dash of laundry (Au Pair helps during the week, but this is a chore that never ends with a family of six), and cleaning/organizing the kitchen. My AppleWatch tells me this dash qualifies as 40 minutes of exercise, which is a nice accomplishment since everything I clean seems to quickly revert back to its original state. Once this is complete, I plant flowers in the garden with kids who intermittently tire of jumping on the trampoline with the daddy. I find time for a little nap on the couch, which is nice since I always feel sleep deprived.
We eat out at kids' favorite Mexican restaurant for dinner, which I appreciate since I hate to cook.
6:30–8:00 p.m.: Sunday Night Chaos: getting kids showered and backpacks organized for school. I work on the family color-coded Google Calendar, which the Au Pair and hubby use so that nothing/no one gets forgotten. My mother also has access to our family calendar so that she can easily attend the kids' various events and activities. She likes to take a kid to lunch or dinner sometime throughout the week, and can see at a glance when a good time might be. The Google Calendar and my work Outlook calendar are separate but sync up beautifully on my iPhone. This allows me to see where I need to be for work while keeping the rest of the family on track. When we on-board a new Au Pair, he/she has been able after the first month to figure out our ever-changing calendars without a need for a weekly discussion.
Kids are asleep by 9:00 p.m., so I log in until 1:00 a.m. to catch up on work emails, input my time and expenses into WorkDay from the previous week, and delegate a few tasks to my team to address first thing Monday morning.
Monday
6:45–9:00 a.m.: Au Pair and hubby start to get kids ready for the bus while I shower and get ready for the day. I kiss boys goodbye and drive E to school early for an extracurricular activity. I head to a networking breakfast with an old colleague.
9:00–11:30 a.m.: Conference calls from my home office with clients and coworkers.
11:30 a.m.–12:30 p.m.: Instead of a lunch break, I go buy a few presents for A's upcoming birthday. End up taking a quick question from a direct report on the phone for something he is working on. I listen to a podcast during the rest of this multitasking time.
12:30–9:00 p.m.: Drive to client site to meet with a steering committee and board about a hospital merger I am leading for them. Call on my drive home to talk to twins; also call to catch up with my sister for a few minutes.
9:00 p.m.: Twins are asleep when I get home, which makes me sad, but I hang out with older two kids before they go to bed. My daughter and I talk about an argument a few of her friends had at school, and I coach her on how to not have to get in the middle. I spend a few minutes chatting with hubby, and then we work side by side in bed with our laptops until 12:30 a.m. He catches up on his patient charting while I prepare a document for my client in Montana. I really enjoy these late-night sessions without the phone ringing or email pinging, and find myself being way more productive than during my usual daytime hours. I often save harder analytical tasks for these time blocks. Since hubby is also in the healthcare industry, he is able to provide relevant perspectives on some of my meatier presentations, and I often use him as a sounding board. This can lead to fun intellectual debates, which is one of things I most enjoyed about dating him. It would be nice if we could have these kinds of conversations more often, but kids…
Tuesday
I take A & D out to breakfast before driving them to school since those two seemed most in need of undivided attention from Mommy today. I stop inside the elementary school to watch E do the morning announcements and give her a hug before heading to the airport for a 10:00 a.m. flight.
It is two planes and two time zones to get to my client out west. I arrive there at what would normally be the end of my work day but squeeze in an afternoon meeting in their time zone before heading out to dinner with a colleague, the CEO, and board chair. Once again, I am the only female in this group of four, and the only one with school-age children. I excuse myself to the bathroom and sneak a call home to say hi to my kids. I wish it were more socially acceptable to share the family juggle with my clients and coworkers so I could be more open about calling home. However, my industry is notorious for not promoting females, and a perceived split in attention could hurt my advancement opportunities.
Hubby is the coach to the twins' soccer team, so he is with them while Au Pair drives A to his soccer practice on the other side of town. E has dinner with my mom, who lives about 20 minutes away. I am grateful for this little village.
Wednesday
Even when I travel to different time zones, I keep my watch on the time at home so that I can do air traffic control things at home. Starting at 6:30 a.m., I text home while also answering client emails. Although it is all on the Google Calendar, I remind the Au Pair to make sure the kids bring in their year-end teacher appreciation gifts, tell him a few things to grab at the grocery, and ask him to enlist the kids in picking up the house for cleaning service on Thursday morning. I schedule a doctor appointment for D and reschedule A's appointment to get his braces tightened. I remind hubby to make a call about the lawn service.
At 9:00 a.m. I head on to client site and barely have time to pee for the next 12 hours between back-to-back client meetings. I text home and send photos of the mountains to say goodnight, but miss my window to talk to everyone before bed by the time I finish up. I hate that I missed hearing the last-day-of-school stories when they are fresh. Before I go to sleep, hubby fills me in on what I missed and reassures me everyone is happy. He is a calm and steady presence in our lives, which makes my travel less stressful on everyone.
Thursday
I head to the airport at 5:00 a.m. for the journey home. I sleep a bit on the first two-hour flight, take two conference calls during my quick layover, and then work through the second flight. Thank goodness I am a frequent enough flier that I get bumped to first class where I can be a little more comfortable and productive.
I arrive home by 1:00 p.m. and am happy to see the house clean and everyone having a nice summer day together. I hang out with the kids at the pool while the Au Pair supervises so that I can also catch up on a few emails and phone calls. Hubby gets home by 4:30 p.m. We head out as a family to A's favorite restaurant to celebrate his 13th birthday, then come home for cake, ice cream, and presents. No more school means bedtime is a bit more relaxed and I take a rare night off from the laptop.
Friday
The Au Pair is in charge of kids while I work from home. The nice part about this set-up is that I can see the kids and monitor their activities in between calls or on breaks. But it is hard for them to keep their noise level down and I am a tired/distracted worker after billing 65 hours this long week. I drive E to her tutor at 3:00 and work nearby on my laptop, finishing up a few last items that must be dealt with before the weekend. I have a pizza order on auto-delivery each Friday that I quickly confirm online.
At 5:00 p.m. the pizza arrives and we have our traditional family Friday night pizza and a movie night. Hubby and I each have an adult beverage towards the end of the movie and chat. Thunderstorms that evening means two kids end up in my room to sleep. Ugh.
Saturday
No Au Pair help on the weekends, so hubby and I do a lot of dividing and conquering. A has two soccer games, and twins have one starting at 8:00 a.m. In the scramble to get out the door, hubby remembers he signed us up for the twins' soccer snacks but we have nothing. Hubby takes twins to the game while I take two older kids to the local grocery store and drive through McDonald's for a much needed large Diet Coke. My mom meets us at the soccer fields and we catch up about our week while watching the twins' game.
Hubby takes all three boys to A's two games. I take E to buy a birthday gift for a friend and then drive her to the party. I stay and chat with a few of the neighborhood moms and get a few ideas about fun summer activities to sign my gang up for.
We all meet up at home again around 4:00 p.m. and decide everyone is hungry and no one feels like cooking, so go to a nearby casual restaurant with boys still in soccer gear.
After dinner I spend a few hours doing online shopping for kids' summer clothes and also a few things for me. I have everything to toilet paper to laundry detergent on auto-ship from Amazon, which saves me from a tremendous number of tedious errands.
Thanks so much to Elizabeth for sharing a bit of her life as a working mom! Readers, what's your biggest takeaway from her week as a consultant and attorney and her work/life balance? What other questions do you have for this lawyer mom to four kids?
Picture credit: Shutterstock/ Andrey_Popov.