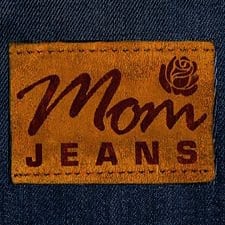 OK, ladies, let's hear it: what are your best tips on avoiding mom frump? We've talked about it before in a general "professional frump" kind of way, as well as whether you have "mom stores" that you prefer these days — but we've never directly talked about how to avoid mom frump.
Personally I feel like it's become more of a challenge for a variety of reasons, many of which have to do with my becoming a mother — my body changed after giving birth, as did my body image! I had a postpartum identity crisis! I barely wear heels anymore because it feels like I'm perpetually running after toddlers! (There's also the "I'm older and care less" reasoning, aka the popular "zero f_cks to give" argument!)
So how do you avoid mom frump? Where are the battle lines for you — and do you care? Some tips that we've mentioned before:
Pictured: If you haven't seen the original sketch on Mom Jeans, you must. Apparently Tina Fey and Amy Poehler told Glamour that they think the 2015 version of mom jeans is "granny panties."
Pay attention to shapes and proportions, both in terms of what's current, as well as what flatters you — including for denim, even if you only wear it on the weekends. This is a big one — if everyone is wearing skinny jeans and you're still in bootcuts it affects every single thing you wear (pants, shoes, etc) and that in turn steeps into your work life because you're used to those proportions. It isn't a coincidence that skinny ankle pants for work came in around the same time as skinny jeans for weekend — and as designers try to talk us all back into flared looks for work and play the proportions will change again.
We did a roundup in 2017 of some of the most-loved denim at Nordstrom, and because of all the customer feedback (even by age!) the Nordstrom site itself is a great resource. (Wearing the wrong shoes with the wrong hem length is a cardinal sin here — it's old but I still stand by this chart on the best hem lengths for different kinds of pants). If you're going back to work for the first time in several years, or at a weight you haven't been at for a few years, note that even little details on things as basic as suits can change — a puffed sleeve, a shawl collar, etc.
Pay attention to fit. If something is too tight or too loose it's never a good look, but especially after the baby the fit really matters. Make sure you've got a great mirror so you can check things from 360 degrees, whether it's too look for back fat, bra overhang, or more.
A corrollary here: Get a great bra that fits you right now. We just talked about how to buy a bra a few days ago, with all sorts of tips on fit issues, so do check it out… but for moms this is particularly important because so many of us got comfortable to soft nursing bras after the baby (and, let's face it, for many of us, breasts change after nursing). When I insist on comfort for the long haul I wear my Shapeez/Unbelievabra bras.
Psst: we've also talked about the best no-VPL underwear, especially if you don't like thongs.
Frizzy hair. Postpartum hair isn't fun — but hairspray is great to tame those frizzy wispies. If you're beyond the postpartum stage, you can look into keratin treatments, or find an easy office updo that works for you.
For my $.02, I find long hair to be easier as a mom because I can pull it up and out of my face more than I could with shoulder length hair (and, if I'm really going for a gold star, use hair spray to contain extra frizz). You may want to check out our recent discussion on Corporette on how long most women spend on their hair for work if you're feeling bad — for most of us it isn't long.
Readers, what are your best tips on how to avoid mom frump? Are there things you swore you'd never do that, as you've gotten older and gotten bigger priorities (like getting everyone out the door in the morning on time) that you now are guilty of? What common problems have you seen among friends and colleagues — or if you've seen women who still look chic but easy, what are they doing RIGHT?
Social media images via Deposit Photos / AllaSerebrina.