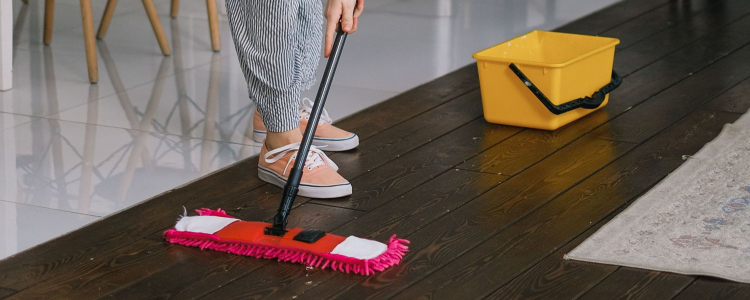 This came up in a comment thread on Corporette last week, and I think it's an interesting question: How do you handle the things that neither you nor your partner want to do? I can see three ways forward:
Decide the Thing Isn't Important.
Decide to Delegate the Thing.
Decide to Accept a Lowered Standard.
So, for example: We haven't had a cleaning service on a regular schedule since March 2020. (We tried to reconnect with our old ones after we got vaccinated, but it turned out that they "didn't see themselves getting vaccinated anytime soon.") Then we hired a service recommended by a mom friend, and while they did a stunning job cleaning, they "organized" way too much (I still can't get over the neatly folded pile of new-with-tags clothes to try on, and my husband's painting clothes.) So we chose not to work with them, and then Delta hit, and now Omicron. Whee.
This is a long way of saying: Our floors haven't been mopped regularly since March 2020. I don't want to mop. My husband, as it turns out, also does not want to mop. (We've both done it once, and we have a new appreciation for the people who do this on a regular basis!)
So we had a few options here, as noted above:
Decide it's not important — it's not like we're eating off the floors, riiiight? And we've obviously been spot cleaning if there are big messes, as well as sweeping up the dry stuff.
Delegate it — go through the process of trying out a new cleaning service, yet again (or convince one of our kids to do it).
Accept a lowered standard — which is what we've settled on for the moment by buying a robot mop.
I suppose there are other ways forward — splitting or trading the undesirable task, or agreeing to take sole ownership of Undesirable Task A only if your partner takes sole ownership of Undesirable Task B — but in my marriage I tend to stick with those three responses.
Anyway, I thought it might make an interesting discussion — where has this come up in your partnership, and how did you handle it?
This post contains affiliate links and CorporetteMoms may earn commissions for purchases made through links in this post. For more details see here. Thank you so much for your support!
Stock photo via Stencil.
We are a participant in the Amazon Services LLC Associates Program, an affiliate advertising program designed to provide a means for us to earn fees by linking to Amazon.com and affiliated sites.