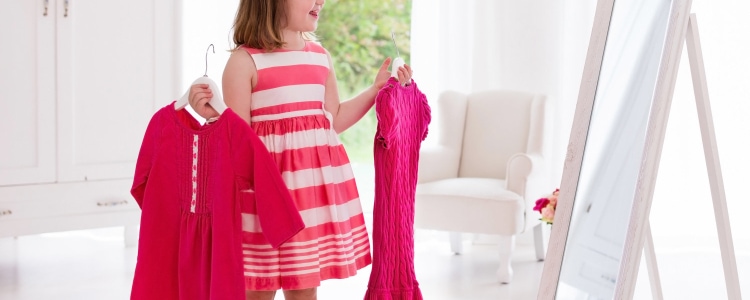 Today at Corporette we're talking about the post-pandemic closet purge — and obviously a huge piece of the pie when we talk about clothing donations is all of the stuff your kids outgrow. It's been a while since we've talked about this, so let's discuss — how do you handle clothes your kids have outgrown? Are you holding them for a younger sibling? Do you try to resell any of the clothes? Or do you just get 'em out the door as soon as possible?
(Speaking of closet purges, some great questions for moms might be: how/did you purge your closet after having your baby? Which changed more, your body or your lifestyle? If you've done multiple separate closet purges over the years, how have they differed (e.g., postpartum 1, postpartum 2, pandemic)?
For my $.02 – my kids primarily wear affordable clothes like Carter's and Old Navy, so I've honestly felt kind of lucky when the clothes survived long enough to even pass on from my eldest to my youngest! When they were younger I had an elaborate computer system of keeping track of what I bought for the kids — and I still use it, particularly when I'm trying to figure out what I have and need in the next size up for my youngest, and when I'm trying to remember which patterns I should be looking for in the huge piles of clothes we're holding for hand-me-downs for my youngest.
I have resold a few things — nice winter boots that weren't too worn, nice winter coats, etc — but I tend not to do the huge Facebook marketplace-type sales.
In terms of donations – when I'm switching the seasonal clothes for my youngest, I make a huge pile of clothes that go in our donation pile almost immediately. Some of the items go in my "clothing purgatory," where clothes get a second look (particularly if I suspect my husband might have sentimental feelings towards something), but most just get bagged up immediately. It takes us several months to get them actually out the door, of course, but it's nice to just get things out of the closets.
Readers, how about you — how do you handle clothes your kids have outgrown? (And, lol, now that I've picked an image for the post — am I the only one who has to beg and wheedle for my kids to try on any clothes, whether new or old?)
Stock photo via Deposit Photos / FamVeldman.