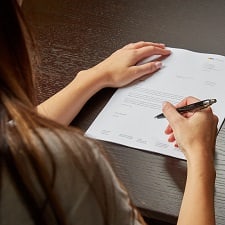 Have you been on top of your estate planning, ladies? Once you have kids it certainly feels like a pressing issue — and yet my husband and I still haven't sat down with a lawyer to get our wills or other details buttoned up. Whoopsies.
We've talked about getting your accounts in order for labor, but estate planning is a bit bigger than that — and it can change with each birth depending on how things are worded and what other situations are (family members living, dying, etc.).
How did you find your lawyer for a will or trust? What other estate planning did you do — and did you find any service that simplified it? (Wouldn't it be great if there were something like MissNowMrs for estate planning for parents?)
What Mr. G and I have done:
Term insurance (20 year), which we bought almost right after J was born. Our rates are probably higher than they might be otherwise because we both had a ton of extra baby weight on us. We originally were insured for some huge amount; after our second yearly premium came due we dialed it down so that the mortgage is covered if either of us die, which at least means the remaining family won't be forced to move quickly.
(Yes, yes, we can always retake the health test portion to lower our rates — and I will go to that trouble riiiiight after I finish that marathon.)
Changed beneficiaries on accounts: Some banks make it very easy to do this — if memory serves, Vanguard and Fidelity both had a  "per stirpes" option, meaning anything in the account would be distributed equally among my surviving kids. With Charles Schwab it was a bit more complicated, but that may just be my situation.
(One of my investment accounts was opened by my father for me as a college graduation gift; when I last looked into it he was still listed as a joint tenant and putting either my husband or the boys on the account would require lots, and lots, of paperwork… that I have yet to sit down and do.)
Guardianship discussion: We've mentioned briefly to our family members who we'd want to care for the kids in case of our deaths. That's a fun conversation, let me tell you.
This doesn't really count as estate planning, I don't think, but long before I was married or pregnant I set up a living will through Legal Zoom, inspired by my grandfather's death — his living will really did come into play.
If you're pregnant it might be worth looking into — I had strong opinions on that tragic circumstance where you have to choose between the mother's life and baby's.
It was all hypothetical at the time I set it up — I wasn't even dating anyone, let alone pregnant! — but it made me feel a little bit better in case the situation arose and I wasn't able to communicate my desires. (You get a little printout to carry in your wallet. Fun!)
All right ladies, over to you — what kind of estate planning have you done? Do you feel well prepared or are you still kind of scrambling, like we are?
Further Reading on Estate Planning:
Young Family Estate Planning [The Virtual Attorney]
Wills and Estate Planning: DIY or Not? [Parents]
Estate planning: Why young families need to do it [Denver Post]
Estate Planning When You Have Young Children [NOLO]
6 Estate Planning Tips for Families [PEPS]
Pictured: Shutterstock / Peter Mayer Fotos.