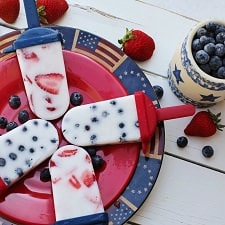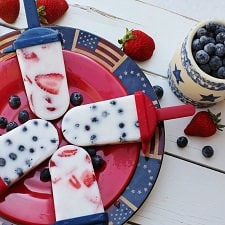 Last time we talked about summer recipes for working moms, we highlighted simple things like quinoa salads, pizza w/store-bought crusts, egg salad sandwiches, hummus pita sandwiches, and more (like Kat's suggestion of tequila lime chicken). Today we thought we'd shift the focus a bit and discuss the best dishes for working moms to bring to summer parties. Fortunately, if your kids refuse to eat what you make for the party (we've all been there … some of us more often than others), then other people there surely will! And if your kids end up only eating tortilla chips and brownies at the party (OK, now I'm hungry), then so be it.
In the past, we've also discussed fall recipes for working moms, and if you don't like to use your oven much in the summer, check out our Corporette posts about how you use your Instant Pot as well as all-day crockpot recipes.
We're eager to hear about what you've found to be the best dishes for working moms to bring to summer parties — and in the meantime, here are just a few of mine:
Cornbread: Sometimes less is more! Bring with or without meat or veggie chili. I prefer cornbread that's a little dry and not too sweet, and so I use the recipe from The Fannie Farmer Cookbook, a book that's an oldie but goodie. (I would advise that you quickly flip past the brain-related recipes. *shudder*)
Southwestern Pasta Salad: This recipe on Allrecipes is almost exactly the same as the dish we've made tons of times. I'm really not a pasta salad fan (especially because there are always so many at summer potlucks), but this is so easy and tasty and includes a great blend of flavors and colors — plus, it's healthy. Note that the chili powder might make it too spicy for any kids at the party. (I use 1/8 cup oil vs. 1/3 cup, 1 clove of garlic vs. 2 cloves, and I put in much less cilantro than 1/2 cup. So many pasta salads are too oily, I think, and this avoids that.) If you want to do something similar without pasta, I've frequently made this Weight Watchers recipe from several years ago.
Green party dip: This fun dip "recipe" was passed down from my grandmother, who served it at her bridge parties. It's very simple, but it tastes so good with ruffled potato chips that I eventually have to push it aside and say, "Please get this away from me!" All you do is mix a large block of cream cheese, half of a finely chopped yellow onion, and green food coloring (what can I say, this is from the '50s — and it makes it fun, anyway), along with a little milk to make it creamy. (Take it out a half hour before serving.)
Last-Minute Lasagna: If you find yourself desperately in need of something easy, this old recipe from Real Simple will do the trick. It's pretty basic except that it includes spinach. Yes, I'm sure it would taste much better with fresh spinach than frozen, but if you truly are making something last-minute, this will work fine. Hey, it's a good alternative to picking up grocery-store potato salad the day of the party. (Yes, I have done this when I ran out of time to make something — but it was from Wegmans, so at least it was really good. And I'm not a potato salad fan.)
What do you think are the best dishes for working moms to bring to summer parties? If it's an all-ages party, do you usually make a kid-friendly dish or just go wild? What have been your favorite recipes that other guests have brought to the summer parties you've been to? Do you usually try out a new recipe for these situations or make an old-standby to be safe?
Picture via Stencil.