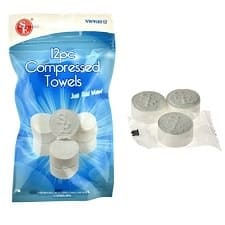 Several weeks ago, we were on a plane and had a toddler poop emergency — and I had packed the extra wipes somewhere "clever," which is Casa Griffin code for "no idea where." YEP, super smart. I found myself wishing desperately I had this odd little compressed/condensed towel that I'd found years ago at one of those random card/gift stores in New York. I came home, hunted on Amazon, and BEHOLD: super teeny tiny towels. These individually wrapped towels, when compressed, are about the size of a very large pill (maybe 3-4x the size of a Tums or Zicam) but, if you add water, they expand to be slightly larger than a diaper wipe, and of similar quality. My bet is that they'll be a better option than just plain wet bathroom paper towels or toilet paper if there is another similar bathroom or sticky-hands emergency in our future. They're small enough that I have two of them in my
purse's makeup bag
(even though we've started
potty training
). You can buy a set of 12 for $3.59, Add-On shipping at Amazon. 
SE NW9510-12 Compressed Towels (12 Pack), Small/9-1/2″ x 10″, White
(L-all)
We are a participant in the Amazon Services LLC Associates Program, an affiliate advertising program designed to provide a means for us to earn fees by linking to Amazon.com and affiliated sites.