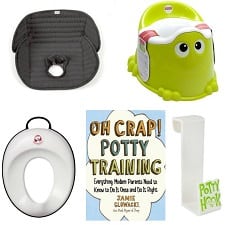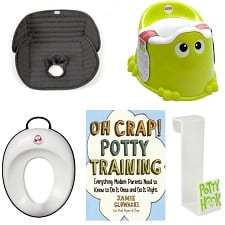 Ladies, let's talk potty training! What's your best potty training advice — particularly if you've already been through it with a child?
For my own $.02, I will admit it: I royally screwed up potty training with my eldest son, J. Things we did wrong, in no particular order:
We "waited until he was ready." But we kept checking. So we put the little potty out. We sat him on the big potty (with the little seat.)
We didn't give it enough time. One morning when he was around 3, we put him in undies instead of diapers and said "LET'S DO THIS!" He peed through a pair of undies; we gave him second. Then a third. Then a fourth. By 11 AM the entire 6-pack of undies we'd bought was soiled, so we put him back in diapers and decided to try again some other weekend. Then we went out to brunch.
We put him in undies right away. He never really had a naked weekend — and we put him in undies and pants immediately once he started getting it right. He treated his undies like diapers far, far, far too often (yuck).
We tried pull-ups when undies didn't work. We even got some that turned cold when he peed in them, which bothered him exactly one time and after that he was cool with it.
We said it was OK when he peed his pants or pooped in his undies. "Oh, that's OK!" we'd say, ruffling his hair affectionately. "It happens sometimes!" Even now that he is 5.5 and in kindergarten, if he doesn't make it to the bathroom in time he'll tell me, "It's ok! It happens sometimes!"
SO: With my second son, H., we decided we were going to have a PLAN OF ATTACK. With a book. And everything. And it's early days still (we're coming up on one week as I write this), but it's going muuuuuuuuch better than it did with J. I got the book Oh Crap! Potty Training: Everything Modern Parents Need to Know to Do It Once and Do It Right, by Jamie Glowacki and, as recommended by Lucie's List, read through the first five chapters before starting anything. Some major steps that we took this time based on the thus-far excellent advice:
We started way, way earlier. Glowacki notes in the book that the ideal time for potty training is 22-30 months. She says that some kids are ready even earlier (18 months!) but that after month 30, it's much harder to potty train. She talks about a number of signs of readiness, but one of the big ones is retreating to a private place to poop — which H. has been doing for months. (As I was reading this book he was 29 months old.) She has a whole bit in the book about how the kid is never going to "be ready," so there's no point in waiting for it — they have a system that works and it's up to you to change that system. (She also makes a big deal about how you shouldn't leave the potty out for a child to "get used to it," because that will result in it being the receptacle for lots of toys and other things, when you should really stress that the only thing that goes in the potty is pee and poop.)
We cleared the calendar for an entire weekend, and kept major outings (more than one hour) off the calendar until day 7.
We skipped underwear entirely. Glowacki describes in the book that ideally you want to keep your kiddo naked for the first few days so that you and he can see when the pee or poop is coming, but that after those first few days (lest you have a kid "who's only potty-trained if he's naked") — and for the next few weeks! — you keep your kiddo commando. (As in, you put pants on, but without a diaper or underwear.) She has a long description here about how undies are too close to diapers for kids — yes they get wet, but peeing (and especially pooping) in underwear feels far too similar to peeing or pooping in a diaper, whereas if you pee or poop in your pants it trickles down your leg and feels way different.
We aren't telling him "It's OK" when he pees or poops somewhere other than the potty. We're not, like, berating him or taking away toys — but in the book Glowacki talks a lot about the importance of messaging, and you can be supportive and educational without giving kids permission to make the same mistake: "I see you've peed on the floor! We put our pee in the potty."
We're still putting H. in diapers for naptime and bedtime at the moment, and plan to for the next few weeks at least, with the hope that the diapers will start staying dry. I suspect our big problem will be that he's holding his poo until we put a diaper on him for naptime (Glowacki has written elsewhere about how you should never, ever, ever give your kiddo a diaper explicitly to poop in)… but at the moment I'm thrilled with/for H. and the progress he's made at potty training. (Update several months later: We still put H in diapers for naptime/bedtime, but that's more our own laziness than his — and I'm proud to report he uses the potty for both #1 and #2 when he's up.)
Some of our favorite products, pictured above: (some bought for J., some for H.):
If you like this post, please share it with your friends!
Update: As readers have noted in the comments, every child is different, and some do absolutely fine with the potty training steps I took with my first child, including potty training when older. I just wish I had realized earlier that 22-30 months old is a good time to start, and that spending a few hours of reading in advance (i.e., "having a plan,") was a good idea.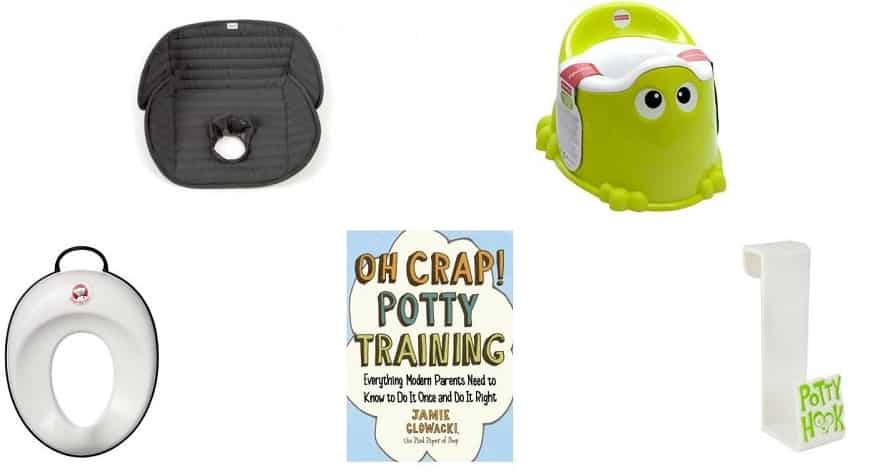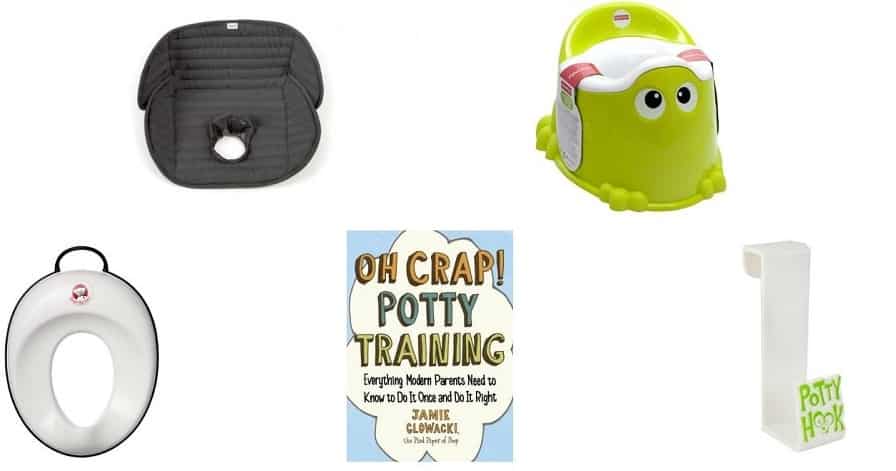 Further reading: