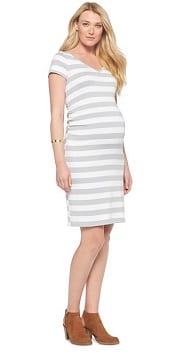 This stripey dress comes in three colors: gray, mint, and navy. I feel like navy stripes are a dime a dozen, but both the gray and the mint feel fresh and new. I suspect the gray would be more versatile for work, though, especially considering that you want to streamline your maternity wardrobe as much as possible. (Although, note that it does come in solids!) Still, it is only $25, full price at Target, so there's that. Liz Lange for Target V-Neck Tee Shirt Dress
Psst: If you're looking for one fancy dress for your pregnancy — for showers, black-ties, etc. — this black Isabella Oliver lace dress is on a great discount.
Building a maternity wardrobe for work? Check out our page with more suggestions along both classic and trendy/seasonal lines.