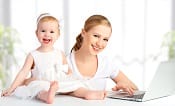 2017 Update: We still stand by this advice on how to stay connected to the office on maternity leave— links have also been updated below.
There was an interesting story over at Above the Law a few weeks ago, where a securities class-action lawyer in New Jersey was seeking unemployment benefits because she had quit her job after being berated by the managing partner. Why the reprimand? With her supervisor's approval, she had interrupted a coworker's maternity leave to seek help with a nationwide class action. (The NJ Supreme Court refused to hear her appeal after the lower court had denied her claim to the benefits.)
So, yay to the boss for protecting that mom's maternity leave. But it's an interesting topic with a lot of dimensions. How connected SHOULD you be on your maternity leave, and how should you keep in touch with your office? How available should your employer EXPECT you to be? If there's a mismatch in expectations, what does it mean for your career prospects? This may be a case where understanding and managing expectations is the key. If your boss expects more than you're willing to give, what are the best ways to scale back those expectations? If you want to work during your leave and be more involved/available than your employer predicts, should YOU reset your expectations?