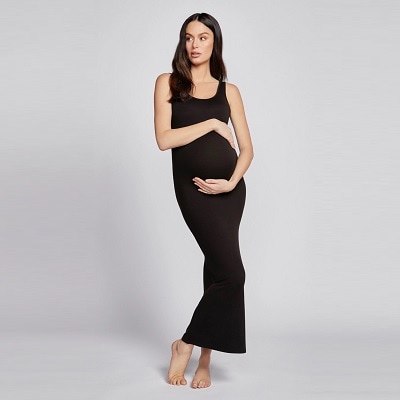 This is the dress I wish I had when I was pregnant. Bumpsuit's founder (mom to three) had that same wish, but made it a reality.
There are so many reasons why this dress and Bumpsuit's other pieces are all over social media — the soft and stretchy jersey fabric, double-lining (so they're not see-through), and versatility to style them however you want. Mamas-to-be should not have to discard their fashionista cards.
I'd add a longline cardigan for the cooler months and wear it alone with some bold jewelry for the warmer ones. It looks so comfy that I could see wearing it postpartum and beyond.
The Dress is $135 and is available in black, ivory, and gray, and sizes XS–XL.
P.S. Happy Holi to those who celebrate!
Building a maternity wardrobe for work? Check out our page with more suggestions along both classic and trendy/seasonal lines.