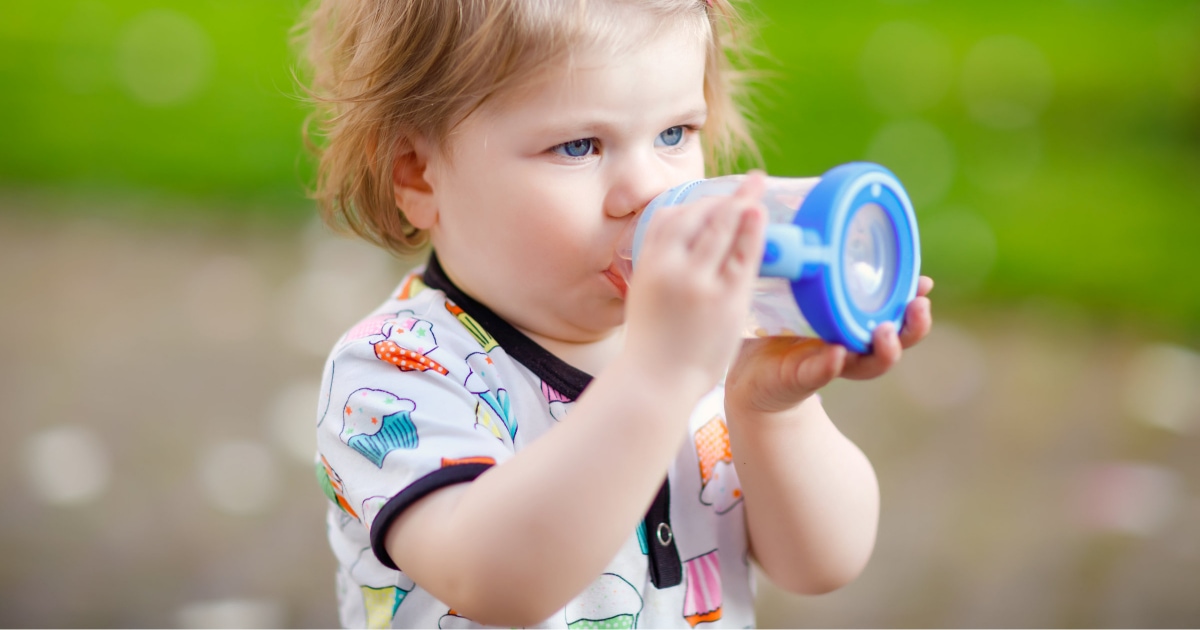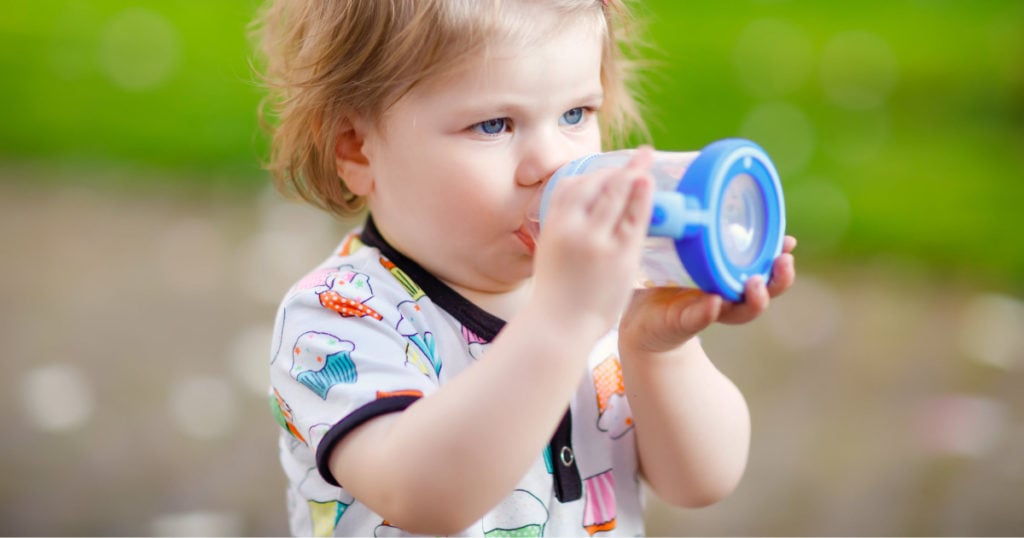 It's been a few years since Kat recommended her favorite sippy cups, bowls, and other toddler feeding products, so today we've asked Ann, who's the mom of a 1.5-year-old and a 6-year-old, to share her thoughts on the best sippy cups and related items for feeding little ones.
Please share your own recs in the comments! What are your favorite cups and feeding items for your kiddos?
This post contains affiliate links and CorporetteMoms may earn commissions for purchases made through links in this post. For more details see here. Thank you so much for your support!
The Best Sippy Cups — and More
Toddlers and babies are very particular about their cups. (Tip: always buy just one at first to make sure they like it, or you'll end up with a sippy cup graveyard.) This sippy cup from Munchkin was my daughter's absolute favorite cup. She figured it out right away and preferred it to sippy cups with spouts. (She would just chew on the spout instead of drinking.) It comes in two sizes: a smaller 7 oz. version with handles for little ones and a larger 10 oz. one without handles for little ones who think they're big.
Unlike my daughter, my son could not figure out how to drink from the Munchkin Miracle 360 Trainer Cup above. He would try to drink from the center and not the edge. So far, we've just stuck with the traditional spout sippy cup, and this one from Nuby is the one he likes best. It's easy for him to hold and easy to drink from. The only caveat is it's not great for on-the-go since there is no cover for the spout.
If I could take one baby product to a desert island, this drying rack from Boon might be it. Just stick the bottles or sippy cups in the "grass" and hang all the smaller parts on the "twigs" to dry. It even looks nice on your counter. The pieces all separate for easy cleaning. (I just throw mine in the dishwasher once in a while.) In between kids, I've even used it to dry my own water bottles and glasses.
For those heading back to the office, OXO makes a great on-the-go option. The compact case snaps shut for easy storage and comes with a two-piece bottle brush that fits right into the case.
Both my kids didn't toss their dishes onto the floor, but if yours do, these suction bowls from UpwardBaby might be a solution. The suction releases easily by just pulling on the tab. (Just make sure you're little one doesn't see you doing it or the bowl will eventually end up on the floor.) And since they're silicone, they're easy to clean and free of BPAs, lead, and phthalates.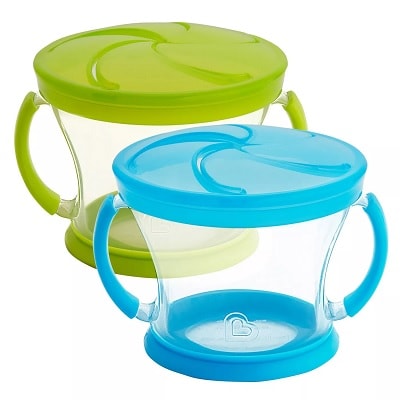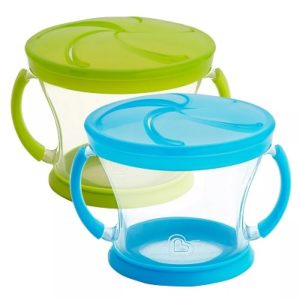 Cheerios. Goldfish. So. Many. Snacks. This snack catcher from Munchkin is in every parent's baby bag for good reason — it keeps all those little snacks from spawning all over your car/bag/house. They're also useful after your toddler figures out gravity and snacks don't mix — just take the lid off and you have a perfectly proportioned snack bowl.
Readers, what have you found to be the best sippy cups and other items for feeding babies and toddlers? At what age did your kids start using a sippy cup?
Stock photo via Deposit Photos / romrodinka.
We are a participant in the Amazon Services LLC Associates Program, an affiliate advertising program designed to provide a means for us to earn fees by linking to Amazon.com and affiliated sites.