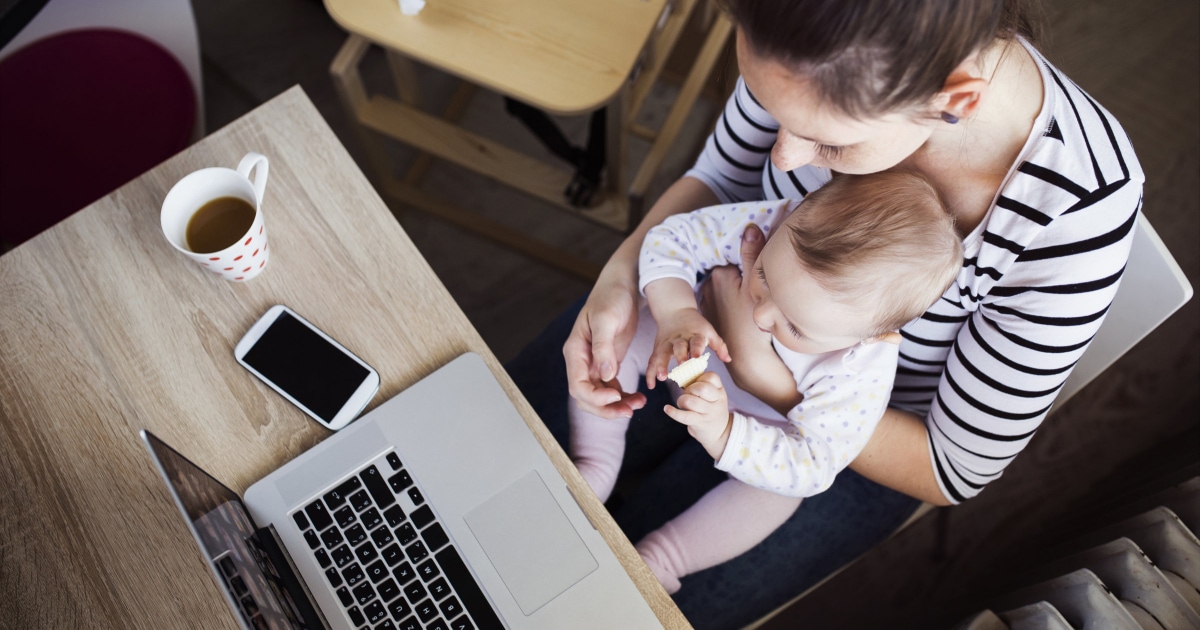 There was recently a really interesting story in The Atlantic about "secret parenting," and I thought it might make an interesting discussion here, if only because I recognized so much of the behavior they're talking about in the story is true not only of my own experience but what I've been advised by mentors and other advisors.
Emily Oster lays out all sorts of "secret parenting" that women and men do at work, arguing that in order to normalize parenthood in the in the workplace, we shouldn't hide our child-care obligations — but instead, many parents feel the need to hide or minimize the evidence of their children at the office.
The issues they encountered were more subtle, more nebulous, more about climate….
Women told me that they hid their pregnancies until well into the third trimester, wearing loose-fitting clothes to avoid telling their bosses or venture-capital funders that they were expecting. Once they had kids, some told me they simply never discussed them. If they had to deal with a child-related issue, they lied about why they were leaving work.

…

The general sense is that everyone should adopt the polite fiction that after the first several months of leave, the child disappears into a void from which he or she emerges for viewing and discussing only during nonworking hours.
This so exactly mirrored things I had been told by older working moms and my own mentors — many of which I've repeated here! — that I think it's an interesting topic to discuss.
Do you "secretly parent" — and is it intentional? In what ways do you keep things quiet about your parenting? What do you think would happen if you stopped "secretly parenting," and how do you think you'd be received? Do you think there are certain kinds of people who should lead the charge in this regard? (Thoughts of Sheryl Sandberg's famous and loud proclamation that she leaves work by 5:30 are running through my mind right now…)
For my own $.02, I absolutely secretly parent. I was advised to do as much when I was a working lawyer, with older moms telling me, for example, that I should never take a sick day for my child, but rather say it's my own health at issue. I've even advised women to keep family pictures away from the office, and we've discussed whether or not to talk about your kids at work. As a blogger, if my posts are late or missing entirely (cough), I try not to blame it on my kids, even if some last-minute emergency or boondoggle involving them is the real reason behind it.
In terms of who should lead the charge, I'm curious to see what readers say here — if you're at a mid level in your company or otherwise trying to keep your head down, "parenting loudly" is far from what you want to do if you're trying to keep your job and advance, albeit, perhaps, slowly. I feel like an article like this, bemoaning "secret parenting" and suggesting that parents should stop doing it, is better aimed at the fathers and the smaller proportion of women leading their teams or companies.
I don't know, readers — what do you think? Do you think "secret parenting" has helped or hurt your career? Do you feel an obligation to change expectations and act differently for the people behind you? If you're mid-level in your career, do you feel like you should set an example for subordinates? For those of you with superiors who are making a great example of "parenting loudly," what are they doing? (Slightly related — I just saw a great article about a high-level woman executive who added a line to her emails to the effect of, "Please note that I do not expect a reply on evenings or weekends," which I thought was great in general for work-life balance (and of course I can't find the link now).)
Stock photo via Deposit Photos / halfpoint.