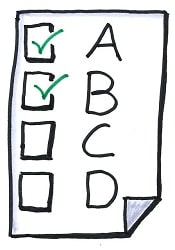 As I've mentioned before, when I first launched CorporetteMoms I really only saw it as an online web companion for the CorporetteMoms pregnancy newsletter — and I've been excited to see what is clearly a reader response/desire for more of a blog for working moms. In order to help us going forward, though, there are some huge, key questions about the readership and possible content — and we've finally designed a survey that will hopefully help us address those key questions. To sweeten the pot a bit I thought I'd throw in the chance to win a $200 Amazon giftcard.
Please click here to take the survey.
The survey should only take 5-10 minutes (at most), and we'd really hugely appreciate your input.
To Enter: Readers enter the giveaway by taking the CorporetteMoms 2014 survey (and answering the final question with a valid email address). One winner will be chosen the morning of Wednesday, July 16 (chosen by CorporetteMoms staff and Random.org) and win a $200 Amazon giftcard. Please note that, due to legal reasons, this contest is only open to adult residents of the United States. The winners will have one week to respond to Kat to claim their prize or a new winner or winners will be chosen.
Pictured: Multiple_Choice, originally uploaded to Flickr by Oliver Tacke.