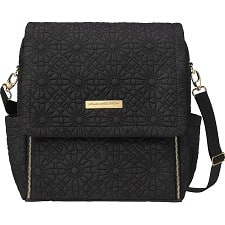 If you're on the hunt for a diaper bag/backpack combo (great for babywearing), this simple black one from Petunia Pickle Bottom looks great. I like the black floral design, the boxy shape. Amazon only has a few left in stock, but they are on a nice sale — meanwhile Nordstrom has them listed full price at $215 (and a smaller bag at $189).
As a side note, ladies: do you prefer bags with TONS of pockets or hardly any? I wore my Le Sportsac Everyday bag a few months ago on a family trip to Texas instead of my usual hobo and decided I hate all the zippered compartments and pockets because it meant I never knew where anything was — I would literally be zipping and unzipping everything until I found where I'd stuck it.
Psst: looking for other backpacks for work? Check out our recent post over at Corporette. Also, here's what was in my diaper bag when I still carried one for both boys.