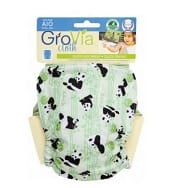 Using cloth diapers might seem too time-consuming or too much of a hassle for busy working moms, but CorporetteMoms reader Miranda Hlady has found a way to make it work for her family. Today she shares her cloth diapering tips and suggests a couple of products she likes. Thank you, Miranda!
Cloth diapering is definitely popular with many moms these days, including working moms. We currently cloth diaper our almost six-month-old baby boy using made-in-China pocket diapers. We use GroVia O.N.E. diapers for daycare, and when travelling we use disposable diapers. (
Pictured: GroVia All in One Cloth Diaper, available at Amazon for $23.95.) 
Before considering starting, supplementing, or switching to cloth diapering I would suggest considering your priorities:
Convenience
It can be handy knowing a clean diaper is a laundry cycle away. If you buy enough cloth diapers — which are as easy to put on as disposables — you certainly won't run out, and once your baby reaches about 12 pounds you don't have to worry about needing a different size. We order our
disposable diapers from Amazon Prime
for convenience, but we find that they don't always safe drop and sometimes we have to go to the post office to pick up the package. Lugging around the giant box of disposables isn't fun either. We don't presoak, use a
diaper sprayer
, or use
special detergent
for our cloth diapers. My husband and I work full time and we only ran out of cloth diapers when the washing machine broke for unrelated reasons.
Cost
Not all cloth diapering moms are
saving money
— but not all cloth diapering moms are concerned with cost. Here are three things to remember:
You have to consider the value of your time doing the extra laundry, or the cost of someone else doing it.
You will end up using more water if you launder the diapers at home.
Cloth diapers can cost anywhere from a few dollars a diaper to over a hundred dollars a diaper depending on what you are looking to buy.
My husband and I picked up two packages of
Glowbug Diapers
when they were on sale and supplement with additional Chinese diapers mostly bought on eBay. We haven't had any problems so far. Certainly we could have bought more expensive diapers — they might last for more babies, they might look trendier, and they might retain their resale value a bit better, but what we have works for our family. We use the GroVia O.N.E. diapers for
daycare
, as our son has his longest sleep of the day there. They are fantastic, but pricey compared to the Chinese diapers.
Division of Labour
Both you and your spouse (if you have one) have to be on board. Your childcare provider also has to be on board or you are going to have to buy disposables.
Baby Comfort
You will hear a lot of anecdotal things about baby comfort. As far as I know, our baby is as comfortable in disposables as he is in cloth. He has never had a diaper rash. He has had blowouts in both cloth and disposables. Sometimes clothing doesn't fit as well over a bulky cloth diaper so we do have to think about that when we buy him clothing. A lot of cloth diaper parents use disposables at night or have a different cloth system for nights but we have never needed to.
Environmental Impact
We definitely generate less trash than we would if we used disposables full time. This is a significant issue for us as we only have trash pickup twice a month. We also like not having to take the trash out on a daily basis in the winter. We haven't noticed a huge increase in water usage. The reality is that someday our cloth diapers will end up in a landfill; however, the environmental impact is still less than it would be if we only used disposables, and we will likely
donate the diapers to a diaper charity
when we are done with them. You can certainly research cloth diapers to find a system with the smallest ecological footprint possible if that is important to you.
Toilet Training
A huge issue for us was that cloth diaper babies toilet train faster than disposable diaper babies. Whether you use cloth or disposables, you probably want to be done with diapers ASAP so this is a really cool plus.
Community
There definitely is a community around cloth diapering. You can choose to be as much of a part of it as you like. It's a good way to meet other moms — we bought our crib and change table from a cloth diaper mom in a local diaper Facebook group.
Getting Started
If you are interested in cloth diapers I would recommend checking out a local store that carries a few varieties. Larger cities tend to have rental programs or diaper services that you can try. Look on Facebook to see if your community has local cloth diaper mom groups you can join. Make sure you discuss your choice with your childcare provider, as not all people are on board with cloth. When you purchase your diapers keep in mind that they are an investment that can last for over two years with each of your babies and that they do have resale value — so be prepared to spend a bit.
Ladies, which cloth diapers are your favorites? And for those of you who've chosen to use disposables instead, which brands have worked best for your baby? Have any of you started off with one option (either cloth or disposable) and then switched later on?
—————
N.B. These substantive posts are intended to be a source of community comment on a particular topic, which readers can browse through without having to sift out a lot of unrelated comments. And so, although of course we highly value all comments by our readers, we're going to ask you to please keep your comments on topic;
threadjacks will be deleted at our sole discretion and convenience.
Thank you for your understanding!
We are a participant in the Amazon Services LLC Associates Program, an affiliate advertising program designed to provide a means for us to earn fees by linking to Amazon.com and affiliated sites.