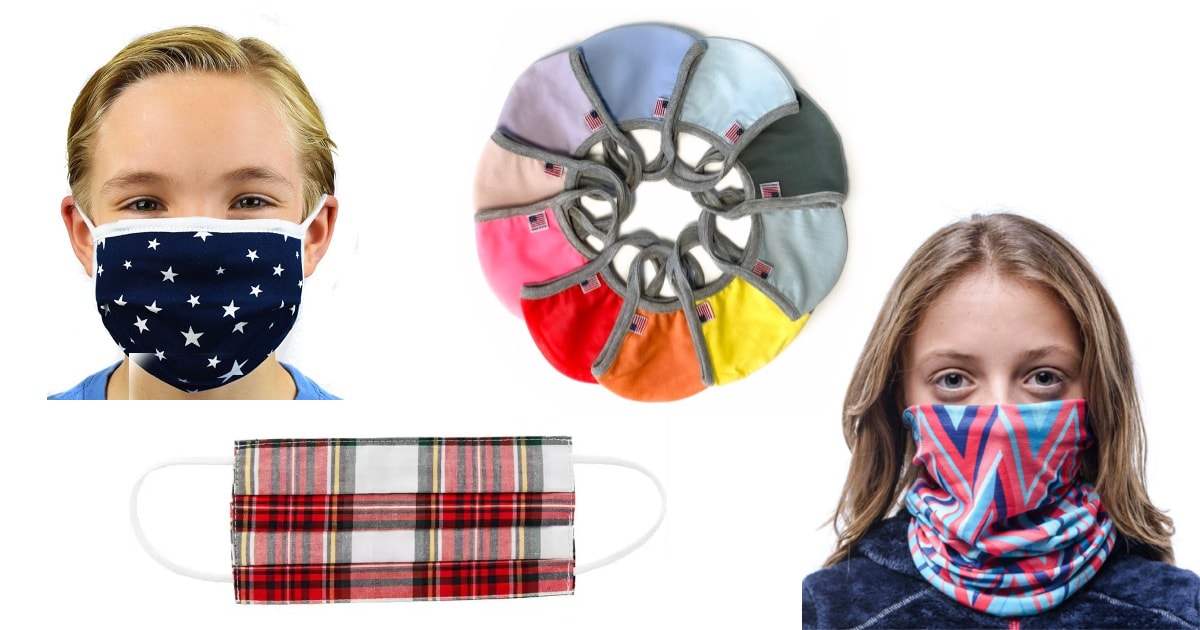 Even though children and teens are only about half as likely to contract COVID-19 as those aged 20 and older, your kids will probably have to wear a face mask at daycare or summer camp (or eventually, school), so today we're rounding up the best kids' face masks for coronavirus. (It's important to note here that the CDC does not recommend face masks for children under age 2.) Have your kids gone anywhere where masks are required? If daycares and camps have reopened in your area (or will soon), what are their rules for face masks? Have you found any kids' masks that you'd recommend?
If your child is scared to wear a mask, try these tips from the American Academy of Pediatrics, as well as this social story (video) or this one (printable). Some trial and error may be involved; for example, the first (handmade) mask my son tried made him feel like he couldn't breathe, but he's much more comfortable with his current ones (also handmade). For DIY mask instructions, details on how to donate masks, places to buy adult masks, and links to info on the efficacy of face masks, see our recent Corporette post on where to find the best face masks for coronavirus.
August 2020 update: The most recent comprehensive review of mask types was performed by Duke University and summarized here; you can read the findings here.
In addition to our picks below, here are a few reader recommendations for children's masks: Etsy seller MargaritaTees (sized for up to age 5, $12.99/each), Swim Spot (toddler & preteen, $10/6-pack — final sale), and Vistaprint (age 4 and up, $13/each). A Corporette reader has been buying a lot of mall-store masks and leaving reviews of masks; she thought the Old Navy options would work well for younger children. We've also seen a lot of readers sharing about the Crayola face masks.
This post contains affiliate links and Corporette® may earn commissions for purchases made through links in this post. For more details see here. Thank you so much for your support!
Here are the best kids' face masks for coronavirus:
Non-Medical Masks Available from Crafters
Etsy has been a hugely popular source of face masks — they're being produced by tens of thousands of sellers. If you can't find suitable kids' fabric masks in your area and don't want to make them, buying from individual crafters — on Etsy or otherwise — is a nice way to support small businesses during coronavirus.
Here are a few crafters around the country who are selling masks:
We featured GoodDayMasks (Los Angeles, CA) in a recent Accessory Tuesday post on kids face masks. The cotton masks are sold individually ($12/each) as well as in a three-pack ($30), a parent-and-child two-pack ($24), and a "family four-pack" ($42). The child sizes are designed to fit most kids aged 4–10. In her post, April wrote, "The cotton is incredibly soft and stretchy, and I've washed them twice and they still look nice. The part that loops around your ears is also soft cotton instead of elastic, so it is comfortable (or as comfortable as a mask can be) to wear."
Dare2bStylish (Downey, CA) looks like a great source of affordable, highly rated masks (pictured above) for kids and adults, and they have a ton of great reviews. Many colors and prints are available in two sizes: children aged 3–6 and children 7–12. The hand-stitched, two-layer masks are made from cotton spandex with stretchy ear loops. You can buy a single mask or quantities of up to 1,000 (!), and prices start at $4.25, which is the current sale price for the white fabric.
Mila's Beach House (Tacoma, WA) was recommended to me, and the masks are very highly rated. Each double-layer, washable mask is $18 and has an insert pocket for a filter, which adds another protective barrier. They are available in small, medium, large, and toddler sizes, and the beach-themed prints include starfish, seashells, and other fun designs.
Akos Regal (Baltimore, MD), another recommendation I've received, offers double-layer, highly rated masks for $10.95 in both child/toddler and adult/youth sizes. The prints on the machine-washable fabrics are vibrant and colorful. (Note: The fabrics are described as "Ankara African prints," which made me leery about cultural appropriation until I discovered the seller is from Ghana; i.e., it's not a case of a white seller profiting from another culture.)
Non-Medical Masks Available from Clothing Brands
Carter's is now selling face masks for kids aged 2–14. They are made from two layers of 100% cotton poplin and have stretchy ear straps that are designed to be easy to remove. Plaid, floral, and striped designs are listed online (although the floral and stripes are currently sold out), but note that five new designs will be offered in July, so check back soon! (If you have a store near you, they may have some of the current prints in stock.) The ones available online are $3 each — final sale.
Buff makes gaiters ("original multifunctional headwear," to be exact) that can be worn 12 ways, including as a mouth and nose covering. These may work for kids who are wary of regular face masks. They are made from breathable, moisture-wicking, stretchy microfiber — with UPF 50 sun protection — and they fit kids aged 6–11. They're available in black and a pretty pink/purple/blue print for $19 each. (If you've heard people singing the praises of the junior buffs from REI, they're made by Buff!)
A reader recommended the adult face masks from BlaqPaks, a small company in Portland, Oregon — and they also offer children's sizes (pictured above). The machine washable masks are made of two layers of cotton with a flannel inner liner and are $10 each. The kids' sizes come in three fun prints (dinosaurs, limes, and an abstract pink design) with more to come, as well as in a solid red.
Amy Kuschel sells sustainable face masks that are made from three layers of natural fabric and have an adjustable nose and fabric ties. They are elastic-free and are machine washable, line dry/tumble dry. The masks are available in three sizes, including XS/S, which is designed to fit "petite adults" as well as kids as young as 4 years old. They are $20 each and come in plaid and a star print.
Are most people still wearing face masks where you live? Where have you found the best kids' face masks for coronavirus, and have your kids needed to wear masks yet?