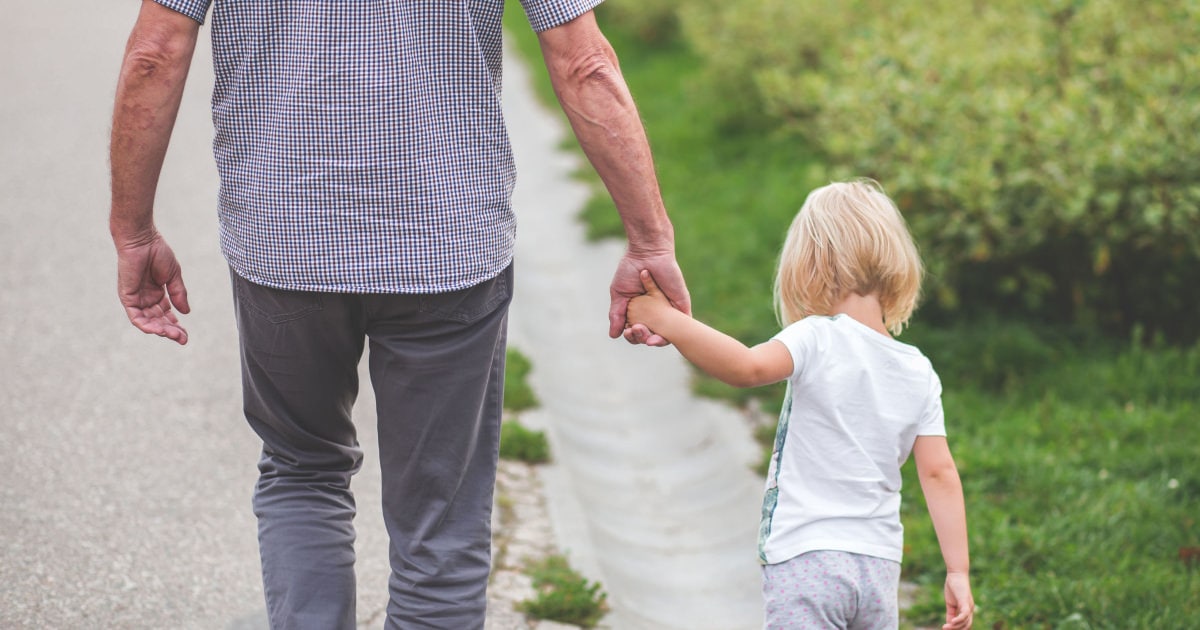 Here's an interesting question we think will make for a great discussion: What do your kids call their grandparents? Did you stick with tradition or go with something unusual? Did your parents and in-laws agree with whatever you suggested, or did they pick their own names? What did/do you call your own grandparents?
I think I first heard of the not-calling-grandparents-grandparents trend in 2011 when I read a New York Times story called "Who Are You Calling Grandma?" and learned that some grandmothers, feeling that Grandma sounds too old, have instead labeled themselves as Glam-ma, Mimi, Mamo, and so on. Of course, some grandfathers pick alternate names, too, but it seems more common among women, and the grandmothers' picks in the article are definitely more … unusual. (The article does mention reasonable, practical reasons to use non-standard names, such as remarriages, etc.) Last year, the Times did a similar story, which included an, er, interesting anecdote about a 69-year-old grandmother who refused to accept her daughter's gift of a "grandma" charm for her charm bracelet. She said she was too old for the nickname and instead requested Sweetie Pie (um).
Here are some thoughts from the moms on the Corporette team:
Kat
When I was little we called the grandparents who lived close Pop-Pop and Gram, and the grandparents who lived far Grandma Vogele and Grandpa Vogele. When it came time for us to pick names for my child's grandparents, I didn't like the level of formality associated with last names — I wanted Grandma and Grandpa to be fun! So in full, we call everyone Grandma Linda and Grandma Ann, but in practice just Grandma in person. The grandpas are Grandpa and Grandad. When my grandmother was living, she wanted to be called GG for great-grandma. Not terribly creative but it works for us!
Kate
I called my maternal grandparents (who lived near us) Gramma and Grampa, while my paternal grandparents (who lived in Cyprus) were Yiayia and Papou, the Greek words for grandparents. (Incidentally, I got my name, Katina, from my grandmother.) When my son was born, my husband's parents, who are Chinese, became Ma Ma and Ye Ye, and my parents were Yiayia and Papou — but when my mom realized that two Y-words for grandparents might be confusing to a little kid, she switched herself to Gramma (like her mom). If my son has kids, I'll be happy being Grandma/Gramma, and I will certainly not ask to be called Glam-ma.
April
In my experience looking at families around me, it seems as if the firstborn grandchild sets the names of the grandparents. In my family, my nephew, who was the firstborn grandchild, couldn't say Grandpa and could only say Papa, so even though we all assumed/intended he would be Grandpa, he is now forever known as Papa. On that side, my mother-in-law is Bubbie. For my parents, my mother is Grandma, and that's what I called her mother. My father started off as Poppy, which I love, but lately he's been trying to transition to Grandpa for some unknown reason. I thought Poppy was cute and suited him, but it is easier to distinguish between Papa and Grandpa vs. Papa and Poppy.
So, readers, do tell: What do your kids call their grandparents, and why? Did this issue cause any family disagreements? What do you want to be called if you have grandkids someday?
Stock photo via Stencil.