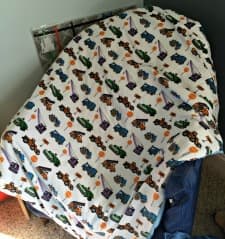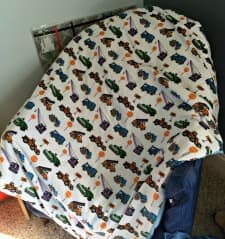 2018 Update: We still stand by this weighted blanket review (we've even raved about weighted blankets for adults)– but you may want to check out some of our more recent stories about bedtime, including our recent post on how to get your kids to sleep. 
I've seen this article about weighted blankets floating around social media lately, and since we just got one for my eldest, I thought I'd do a little weighted blanket review today.  I forget how exactly I found this Forbes article saying that weighted blankets are amazing for all sorts of kids (although they're most often used for kids with sensory disorders) — probably somewhere in my sleep research.  Bedtime was crazy crazy crazy for us for months (maybe years! taking the fourth side off the crib in January 2014 was what I generally view as the start of his sleep troubles), complete with meltdowns, screaming, and more.  We moved his bedtime up, we moved his bedtime back… we set strict routines and stuck to them as best we could with him fighting every step.  Finally I found this article about weighted blankets and decided to give it a try.  (It didn't help that he had a major itchy rash from May 2015 until recently (more thoughts on eczema to come in the future), and would itch like mad at bedtime unless we gave him Benadryl, which only seemed to help enough to help him fall asleep.
Finally, I found this article and decided to give it a try, even though it sounded crazy — putting an 8 pound weight on my son while he slept?  But you know what: dang if it hasn't solved a lot of our sleep problems.  The first few nights he refused to use it, and I had to put it on his legs after he fell asleep in hopes that it would help him sleep.  Now, after having it for almost three months, he happily snuggles under it at bedtime and knows it helps him fall asleep. Even if he was crazy just a minute before, if we can get him under the blanket for just 20-30 seconds it seems to really help calm him down.  (Note that it isn't a bed-sized blanket; it's more the size of our Dream Blanket.) The one downside is that he seems to sleep so well with it that he has more nighttime accidents than he ever did before, so we've started taking the blanket off him after he falls asleep. (But then again, he is 4.5, so that's probably par for the course.)  The blankets come in a range of sizes, colors, and weights; we paid around $114 for ours with tax and shipping.  The Magic Blanket
2018 Update: The Magic Blanket is now available through Amazon — as are other weighted blankets!