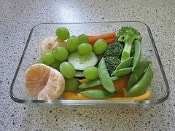 Some of the articles of interest to working mothers that we've seen around the web recently…
Raise Healthy Eaters takes a look at rewarding kids for healthy eating habits — good idea or bad idea? How do you get your kids to eat vegetables and other not-always-popular foods?
Lifehacker explains several things moms-to-be should know about breastfeeding.
Homemaker, housewife, stay-at-home mom? Slate's DoubleX blog wonders what we should call mothers who don't work outside the home.
The New York Times' Motherlode blog delves into the issue of putting your babysitter/nanny on the books.
Working Moms Against Guilt discusses what the term "work-life balance" really means.

Alpha Mom answers a reader's question about a potential in-law babysitting arrangement. If you're pregnant, are you including family members in your childcare plan?
Make sure to check out this week's news update over at Corporette!
On Corporette Recently…
Pictured: Healthy homemade school lunches, originally uploaded to Flickr by Jennifer Chait.