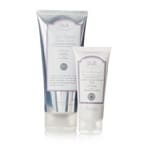 A lot of women prefer to go organic with their skincare while pregnant — but finding the best lines can be a bit difficult. (My first OB/GYN advised me to just "go to Whole Foods and pick one out." That's an approach too!)  I'm not a doctor, but this is a list of the skincare lines that I liked.
Whatever you do: pay particular attention to sun protection during this time period
— I always found I was particularly vulnerable to the effects (freckles, sunspots) and yet you may want to avoid your regular sunscreen because of chemicals. Don't overlook physical protection, such as wearing a brimmed hat when you go on walks to shade your face. I'd also recommend a good rash guard if you're going to the beach or spending a lot of time at an outdoor pool (you can get them at a variety of places including
J.Crew
and Land's End — I've even seen them at
Old Navy
during certain seasons.
Ain't No Mom Jeans
even wrote about how sexy the rashguard+bump look can be!) Anyway, these were the brands that I used for my own pregnancy skincare routine — like I've said before, I'm not a doctor — and while many of these brands are organic, some of the labels advise you to talk to your doctor if you plan to use them during pregnancy, so proceed with caution.
Note that even among these organic lines, many of them recommend that you talk to your doctor before switching to them for use during your pregnancy.
Readers, have your doctors or friends recommended any pregnancy-safe products? Do you have any organic or homemade products that you love in general?
(Another note: You'll notice that most of the links here are Amazon affiliate links — I'm a HUGE FAN of Amazon, particularly for busy mamas. Amazon even has a whole 
pregnancy-specific skincare store
. If you haven't, yet, sign up for the
Amazon Mom
program — you get free 2-day shipping and other special deals. I didn't sign up until my son was about 3 months old, and I wish I'd done it before then, if only because I wasted a ton of time running around town trying to find different specific things (particularly after he was born — the right sizes of
flanges for breastfeeding
, an
SNS system
that I never used, etc., etc.) and Amazon would have had them there in a day or two. We became so addicted to the quick, free shipping that we later became Prime members. (Amazon's sister site,
Diapers.com
, may even deliver things to your house the same day, at least if you're in NYC.)
—————
N.B. PLEASE KEEP COMMENTS ON TOPIC; threadjacks will be deleted.
These substantive posts are intended to be a source of community comment on a particular topic, which readers can browse through without having to sift out a lot of unrelated comments. And so, although of course I highly value all comments by my readers, I'm going ask you to please respect some boundaries on substantive posts like this one. Thank you for your understanding!
We are a participant in the Amazon Services LLC Associates Program, an affiliate advertising program designed to provide a means for us to earn fees by linking to Amazon.com and affiliated sites.