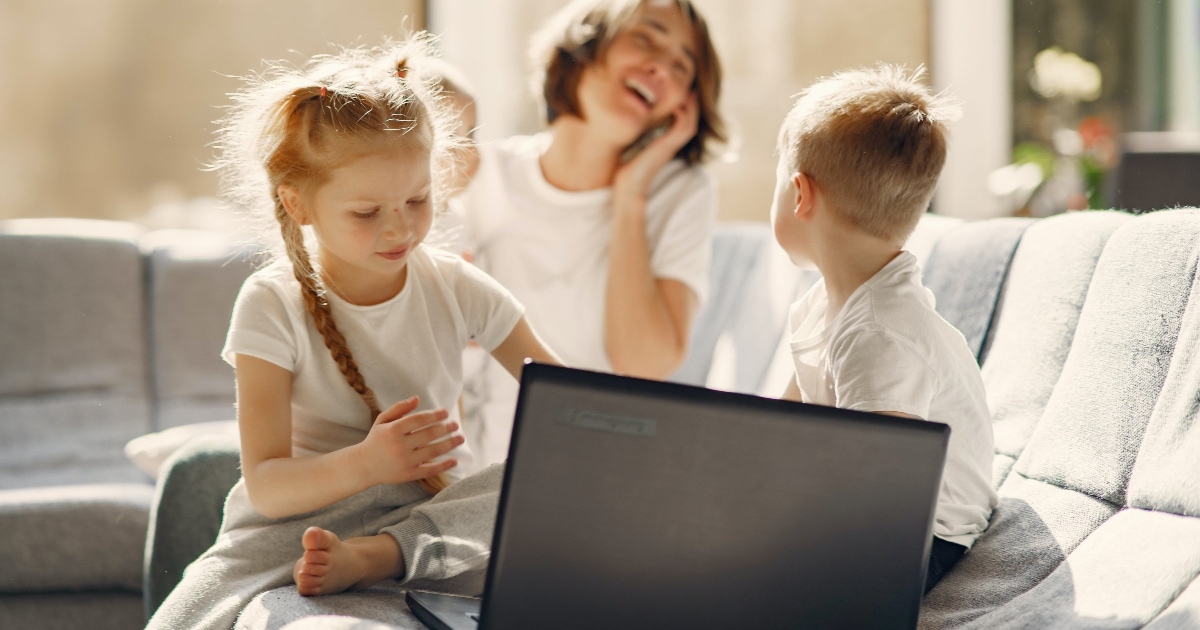 Over at Corporette last week, we recommended several ways to stay connected during social distancing — but because I wrote it in the context of adult friend relationships, today we thought we'd focus more on staying in touch with grandparents, aunts, uncles, cousins, and other extended family. (Most of these ideas would work just as well with family friends and other grown-ups, however.) How are you connecting with friends and family now? What are some creative ways you're using to communicate and feel closer that other readers may not have thought of? Alternately, are you getting together with extended family in person if all of you have been self-isolating for weeks?
Here are four ways to connect with friends and family now:
Stay Connected with Video Chat
Video chat is one of the easiest ways to keep in touch during quarantine, of course, whether it's via Zoom, Skype, FaceTime, Google Hangouts, WhatsApp, Houseparty, or Facebook Messenger. (Be aware that Zoom has been under fire lately for serious privacy and security flaws and that some companies and school districts have banned its use.) Get creative: Family friends or relatives can read a book to your child, and your child can even read to them — and you can suggest that your kids do show-and-tell with their toys, stuffed animals, etc. Romper has some nice ideas for activities, too. Younger children don't always take to video chat naturally, but NAEYC and Popsugar have some great tips for encouraging them.
Letters and Cards
Emails are fine for keeping in touch (maybe your kids are even old enough to text), but everyone loves getting real mail. Most kids will enjoy making cards to send — or they can write letters. Provide some printer or drawing paper and get them to make their own stationery with markers, crayons, stamps, stickers, and so on. These fill-in-the-blank kids' letter printables from Etsy look fun, too, and the set is only $2 [affiliate link]. Kids who are too young to write yet can simply draw or paint pictures to send. (In case you're worried about contracting the virus via mail, this New York Times article and this Washington Post article share experts' statements that the risk of transmission is quite low — just wash your hands after touching the mail to be safe.)
Social Distanced Virtual Show-and-Tell
Even traditionally solo activities can become family activities in this time of social distancing. I've seen some great ideas online in which a group of friends each bakes something and then connects on video chat to share what they've made — and if your kids are old enough, it sounds like a fun thing to do with grandparents or other relatives. You can also try this with arts and crafts; just use whatever materials you have on hand. To simplify, ask young children to draw, paint, or make a craft and then present it to grandparents on FaceTime or another video chat app.
Games to Play Together — Online or on Video Chat
Depending on the age of your kids, Draw Something and Words with Friends are good choices for games they can play with family friends and relatives. (Note that the apps a lot of in-game ads, however.) If you have older kids, Minecraft could work well for playing with cousins — and with adults who know how to play or are willing to learn! If you're looking for something to play face to face (virtually, that is), this article from The Independent explains how to adapt chess, charades, etc., for video chat. My mom just sent us this fun scavenger hunt game, which could easily be adapted to playing via video. Mad Libs would be simple to do through video chat, too — either use a Mad Libs book you happen to have lying around, write your own fill-in-the-blank stories, or use a site like this. Finally, the WSJ has an article on using online games and activities to connect to grandchildren, but it's behind a paywall.
Readers, do tell: What have you found to be good ways to connect with friends and extended family during the coronavirus quarantine? What is the first thing you're going to do with friends and relatives once it's safe to get together again?
Stock photo via Pexels / Gustavo Fring.