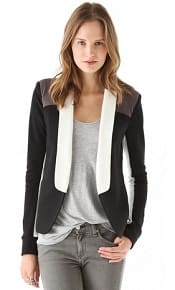 I love this colorblock blazer for everyone because — dunh dunh dunh — that is TERRY CLOTH, my friends. Washable, stretchable, super cozy… so long as you can keep the white shawl collar white, I think this would be great option for a variety of casual offices. It says "
dry clean
," but I've always read that as "probably fine for the washer." The blazer is $180 (sizes XS-M only, alas) at ShopBop.
Pencey Standard Warrior Blazer
(Psst:
here's
a slightly less expensive option in a basic black, which inexplicably says it's "dry clean only," and a few
plus-size options
.)
We are a participant in the Amazon Services LLC Associates Program, an affiliate advertising program designed to provide a means for us to earn fees by linking to Amazon.com and affiliated sites.