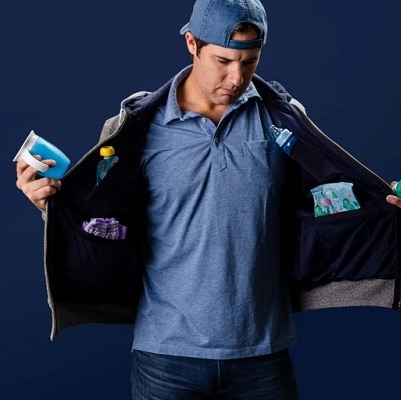 I originally saw the Dad Hoodie in a magazine and immediately ordered it for my husband. I thought it made the perfect holiday gift for someone who always said he didn't know what he wanted for Christmas.
I didn't actually think he'd use it much for its advertised purpose — it has six interior pockets dedicated to diapering essentials — but I thought it might be good for travel.
We used it a few times for trips and outings in the Before Times, and the pockets worked as promised — they were roomy enough to hold snacks, a small water bottle, and yes, diapers and wipes. The mesh lining is breathable, yet strong enough to support everything inside.
Now, the farthest it goes is the grocery store, but it'll be ready to come with us on our After Times adventures.
The Dad Hoodie is $95 and comes in four colors (navy, heather gray, charcoal black, and solid black), sizes S–XXL. There's also a new Dad Vest for $78.
P.S. Happy Lunar New Year to those who celebrate!