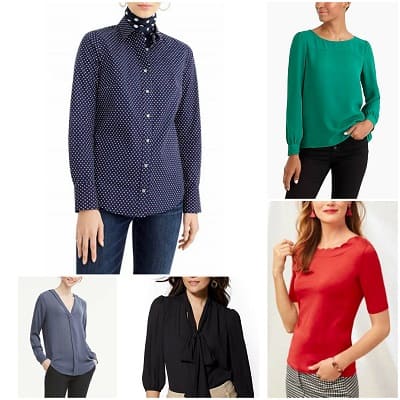 Sure, we all know what wardrobe essentials for work professional women are supposed to have in their closets, but if you're buying one for the first time or replacing one you've worn into the ground, it can be a pain to find exactly the right incarnation in stores. Plus, when you're a working mom, the focus often becomes machine washable clothes and kid-friendly fabrics and prints. In CorporetteMoms' "The Hunt," we search the stores for a basic item that every woman should have.
A few weeks ago we rounded up modern blouses for under suits over at Corporette, and there were so many great machine washable options, I thought I'd round them up specially over here!
What kind of shirts, blouses and tops do you like to wear the most — and do you gravitate towards them because they're machine washable, easy-care, comfortable, or something else, like nursing- or pumping-friendly access?
Under $100: most below!
Plus Sizes: J.Crew Factory, Vince Camuto, Foxcroft, J.Crew
Tall Sizes: New York & Co., Ann Taylor, ASOS, J.Jill
Petite Sizes: New York & Co., Express,
Maternity Sizes: Isabella Oliver, Loyal Hana, Loft, ASOS, H&M (don't forget to check out our entire guide to maternity workwear!)
Nursing-Friendly: Loyal Hana, Savi Mom, (don't forget to check out posts on nursing clothes for working moms)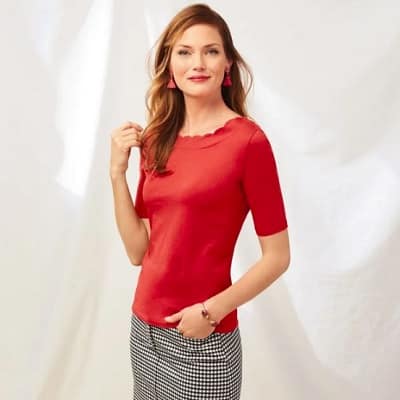 This
scalloped edge tee
is indicative of an entire style that I'll call "elevated t-shirt" and hands down is my favorite thing to wear to work, whether it be with blazers, cardigans, or more. It's dressy and appropriate but also suuuuuuper easy. There are no buttons. There's no ironing. If it's slightly too tight, just give it a little yank. Admittedly, it's time to retire the shirt from the workwear rotation when it's lost its shape, has stains, or otherwise no longer looks crisp — but in my experience that happens many, many wears after the initial purchase. Talbots has a whole line of
scalloped items
right now that are really nice; this one comes in regular, petite, plus sizes, and plus-size petites and is $27-$35 today; also keep an eye for this style of elevated tee at the usual suspects like Ann Taylor, Loft, J.Crew, and Banana Republic. (If you're a fan of neutrals check out our recently updated guide to
white tops for work
, including a ton of elevated tees like this…)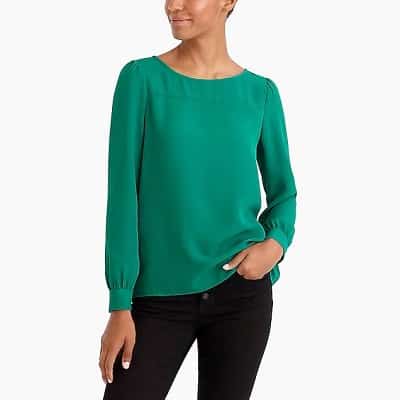 A synthetic popover blouse
like this one
is another reader favorite for a super easy top to wear to work — it's usually fine without ironing (unlike similar
silk options
), but the fact that you don't have to worry about gaping buttons or fussy collars makes it very versatile. The pictured top is from
J.Crew Factory
(and comes in multiple colors and prints right now for $19-$35); also check out these options from
Hinge
and
Express
.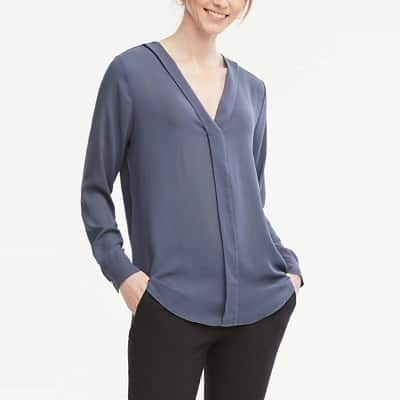 Mixed media blouses can be the best of both worlds — they're usually a polyester on the front and a jersey knit (like a t-shirt) on the back. They're stretchier, and they wash well — but in my experience they look a bit worse for wear sooner, possibly because I'm more inclined to put them in the dryer (whereas with synthetic blouses I always just hang them up to air dry). The
pictured one
is $59 at Loft (and today they have a stacking promotion, where the more items you buy the higher your discount).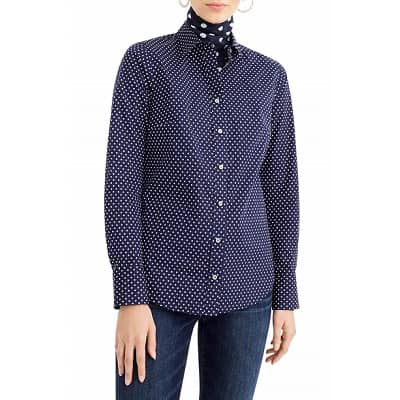 If you're looking for easy-care blouses, don't automatically discount the super traditional button-front
dress shirts
because many of them are machine washable and can look great with the right dryer/airdrying combination (15 minutes in the dryer to get the wrinkles out, then hang to dry). In my experience, the ones that are no-iron or have a high component of stretch works the best if you're trying to
iron your clothes less
— the
pictured one
is from J.Crew, but also check out
Brooks Brothers
,
Ann Taylor
,
Foxcroft
, and
Express
. Another idea to consider here, particularly if you just want to layer a collar beneath dresses or sweaters: the dickey or collar. They're making a comeback, with
high
and
low end
options to choose from.
Readers, how about you — what are your favorite machine-washable tops to wear to work like blouses, dress shirts, and elevated t-shirts?
Like this feature? Check out other recent installments here on CorporetteMoms, or on our sister site, Corporette!
This post contains affiliate links and CorporetteMoms may earn commissions for purchases made through links in this post. For more details see here. Thank you so much for your support!
This post contains affiliate links and CorporetteMoms may earn commissions for purchases made through links in this post. For more details see here. Thank you so much for your support!
We are a participant in the Amazon Services LLC Associates Program, an affiliate advertising program designed to provide a means for us to earn fees by linking to Amazon.com and affiliated sites.
Sales of Note…
(See all of the latest workwear sales at Corporette!)
See some of our latest articles on CorporetteMoms: