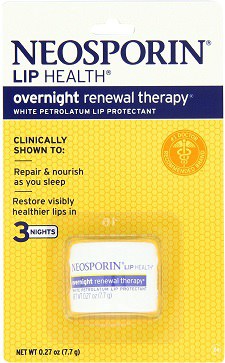 Happy Tuesday! Since I'm sure we're all recovering from lots of buying this past weekend, I thought I'd give a shoutout to my favorite lip balm for kids with chapped lips: drugstore favoite Neosporin Lip Health Overnight Renewal Therapy.
I use it myself when I have severely chapped lips and want more than my usual nighttime balm — but I LOVE this stuff for my boys.
This will be my fifth winter as a mother, and it now seems inevitable that at some point the following will happen: one or both of my boys will have chapped lips. They will refuse all offers of regular lip balm, instead choosing to lick their lips and the skin around their mouth, resulting in WORSE chapped lips and a red, splotchy, dry rash around the mouth.
So what I do is wait until they're asleep, and then sneak into their rooms to put this on their lips — it's got enough of a watery consistency that I can do that without waking them; I even spread it over other dry patches around their mouths. (We've never had a problem with goopy, gunky sheets!)
When they wake up they look a thousand times better, and I feel a bit better about my stealth ninja lip balm tactics.
Lots of stores have this awesome balm for around $6, including Amazon, Walmart, and CVS. Neosporin Lip Health Overnight Renewal Therapy
2018 Update: We're adding this product to our CorporetteMoms Hall of Fame because it's still being sold in stores and we still love it! You can also find it online at Amazon, CVS, Wal-Mart and more!
This post contains affiliate links and CorporetteMoms may earn commissions for purchases made through links in this post. For more details see here. Thank you so much for your support!
Sales of note for 12.7.23…
(See all of the latest workwear sales at Corporette!)
See some of our latest articles on CorporetteMoms:
Click here to see our top posts!
And — here are some of our latest threadjacks of interest – working mom questions asked by the commenters!