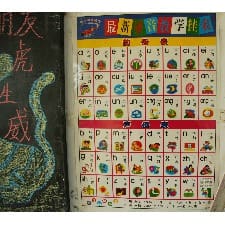 I still remember the big day in 6th grade that we got to choose the foreign language that we'd start learning: Spanish, French, or German. (I picked Spanish.) Many schools in the U.S. still don't begin to teach kids a new language until middle school, while most European countries, for example, start instruction of a second language when kids are six to nine years old. Here are a few reasons why it's beneficial to start language learning sooner rather than later:
"The ability to hear different phonetic pronunciations is sharpest before age 3, and we lose the capacity to hear and produce certain sounds if we aren't exposed to them early on." [Parents]
"After the teen years, the brain changes and makes it extremely challenging (if possible at all) for an adult to learn a foreign language." [Parent.co]
"While new language learning is easiest by age 7, the ability markedly declines after puberty." [NBC News]
Over at Corporette, we recently talked about ways to learn a foreign language as an adult, so we thought it was a good idea to talk about language-learning for kids, too. If you or your partner don't speak a second language and neither do your parents/in-laws, here are a few ways to teach kids a new language:

Enroll in an Immersion School to Teach Kids a New Language
In an immersion school, instruction takes place partly or entirely in the students' second language, often Spanish, French, or Mandarin Chinese — and this learning method takes place at private and public schools alike. In New York City, earlier this year the Schools Chancellor announced 38 new bilingual programs across the five boroughs, including 29 dual language and nine transitional bilingual educational programs. (These programs benefit native English speakers and English language learners.) The Center for Applied Linguistics maintains a database of foreign language immersion programs in U.S. schools.
Teach Your Kids a New Language by Hiring a Bilingual Nanny/Babysitter
Try these methods to find a bilingual nanny or babysitter, whom you can ask to speak to your child only in a certain language, or in that language in addition to English:
If you live near a college/university with international students, ask the education department or career center how to get the word out to students looking for babysitting jobs.
Search at Care.com or Sittercity for a caregiver who speaks more than one language.
Hire an au pair.
Here's a NYT article about parents searching for bilingual caregivers.
How to Teach Kids a New Language: Home Language-Learning Products
Here are a few options for products that promise to teach kids new languages:
Little Pim was created by Julia Pimsleur, daughter of Pimsleur Method creator Dr. Paul Pimsleur, with the help of "[a] leading neuroscientist[,] educators and native language experts." With its videos, books, flashcards, and CDs, your child (age 0-6) can learn Spanish, French, Chinese, Italian, German, Japanese, Arabic, Hebrew, Russian, or Portuguese.
Foreign Languages for Kids by Kids was created by Kit Strauss after she was "unable to find quality foreign language products and programs for her three sons." The program teaches Spanish to kids aged three and older. Based in Maryland, the company offers videos, workbooks, puzzles, quizzes, and games to help kids learn, and you can test them out with a two-day free trial.
The BBC originally developed Muzzy years ago to teach English as a second language, and now the program is available (through an education company) as DVDs and an online subscription program that teach Spanish, French, German, Mandarin Chinese, and Italian to kids of all ages. It offers a "risk-free" trial.
Is your child learning a second language? Can you speak the language he or she is learning, i.e., will you be able to help? Is he/she learning at school, through an outside class, with a language-learning product, or with you or another family member? Do you have any bilingual/immersion schools in your area, and have you considered enrolling your child in one?
Pictured: Pixabay