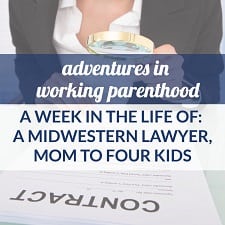 For the sixth installment of our Week in the Life of a Working Mom series, I'm happy to introduce CorporetteMoms reader Elizabeth. She's a 42-year-old consultant/ lawyer mom to four kids; she lives in the Midwest. Our usual caveat applies: Please remember that this is is a real person who has feelings and isn't gaining anything from this, unlike your usual friendly (soul-deadened, thick-skinned, cold-hearted, money-grubbing) blogger — so please be kind with any comments. Thank you! – Kat
If you'd like to be featured (anonymously or otherwise), please fill out this form! You can see all posts in this series here. You can also sort by tag, such as "daycare," "au pair," and "lawyer mom." (We're working on devising a system that makes sense.)
First, Some Basics about this Working Mom…
Name: Elizabeth
Lives: Midwest
Job: consultant/attorney — I lead annual strategic planning efforts for hospital clients, as well as hospital mergers.
Age: 42
Home Situation: 
My husband is family medicine physician who covers inpatients at the hospital every third weekend. We have four school-age children: A, 13-year-old son; E, 10-year-old daughter; B & D, 7-year-old twin sons. We live in a 4000-square-foot house in the suburbs.
Childcare Situation: $18,000/year.
We have had Au Pairs for the past four years. The last two have been males. Prior to that we covered childcare with a number of options: a preschool teacher/nanny, a college student that lived in during the summer, hubby took Mondays off and I took Fridays off. We love the Au Pair help. My spouse and I have schedules that change from week to week, depending on his inpatient load and my travel. Having an Au Pair has eliminated the hours of stress and scrambling with multiple care providers to try to cover different hours we needed. For instance, the preschool teacher was a wonderful caregiver but had a family of her own so was unavailable to help in the evenings or weekends. Fortunately, we have a supportive family network nearby that was able to assist in some of those previous pinches. But it is nice now to have that family come to support the kids' extracurricular activities or have special one-on-one time with the children, rather than serve in the role of an emergency babysitter.

Our Au Pairs transition about every year or so. We have appreciated the ease of picking a new care provider to sync up with the evolving needs of our children. For instance, our first Au Pair was a nurturing female who was excellent with our toddler twins. Or more recent Au Pairs have been active males who play sports and make up fun games to play. I expect in a few years we will be interested in a caregiver that can provide more homework support.