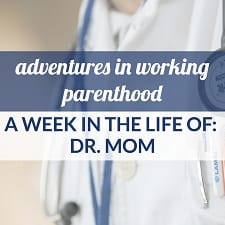 For our first Week in the Life of a Working Mom series, I'm honored to introduce my friend M, who is a 40-year-old doctor based in Washington, D.C., and mom to two kids, 6 and 8. Before we get to the nitty gritty of her life, I'm going to caveat this post with something I plan to preface all of these updates with: This is a real person who has feelings and isn't gaining anything from this, unlike your usual friendly (soul-deadened, thick-skinned, cold-hearted, money-grubbing) blogger — so please be kind with any comments. Thank you! – Kat
If you'd like to be featured (anonymously or otherwise) for a "week in the life of a working mom" feature, please fill out this form here! Eventually, you can see all posts in this series here.
First, Some Basics about this Working Mom:
Name: M
Lives: Washington, D.C.
Job: Almost-full-time physician, between seeing patients and teaching
Age: 40
Home Situation: 
1 husband, 2 kids (ages 6 & 8). Moved around A LOT pre-kids but have hunkered down for the past 7 years. We live in a 1950s ranch with a claustrophobic cluster of rooms in the most beautiful neighborhood in DC (biased). 4 bedrooms/3 bathrooms, the last bedroom for our au pair so we are guestroom-less.
What's your childcare situation like?   
Au pair! Life-changer. Started when I was a resident/husband was a firm attorney. Never going back to anything else as long as we need any form of childcare. Has given us amazing flexibility with both our parenting lives and our social lives. (Au pair staying in? Great, we put the kids to bed then head out for drinks on a random Tuesday night. That's the best part. Plus the flexibility. Plus the kids learning new cultures. It has been all upside for us.)
(Kat's note: We may circle back to M for more advice on au pairs, because when I asked her a follow up Q or two, she gushed about how she's the poster child for au pairs — they're on #4! As for what M's favorite resources are for au pairs, M said: "My favorite au pair resource is of my own creation: I put together this slightly insane handbook with rules, expectations, sample schedules, how to use the subway, favorite museums, neighbors names/photos, and send it to the girls before they get here. Helpful to be in a city like D.C. with so many au pairs– they often have better social lives than we do. ")