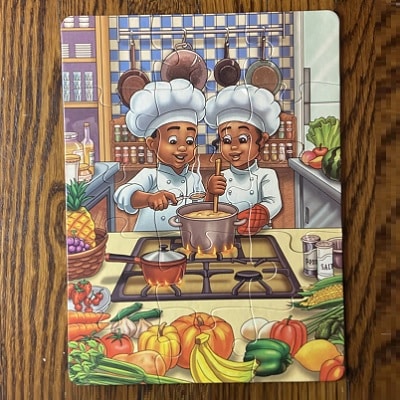 Given our stay-at-home lives, puzzles have soared in popularity. As an Asian American mom, I've always sought out toys that reflect my family and other diverse families — our families are too often overlooked by many toy manufacturers.
The founders of Puzzle Huddle faced the same dilemma and did something about it. According to their website, "Puzzle Huddle was created by Matthew and Marnel, a young couple with three young children. The family believes that all children should be reflected in a variety of products. As a result, they decided to create puzzles that affirm and inspire diverse children."
Their puzzles come in four different sizes to suit little kids of all ages. They center on the dreams of Black children — future doctors, vets, engineers, chemists, entrepreneurs, ballerinas, and other aspirations.
I really love the chef puzzle — the two children cooking together remind me of my little gourmands.
Puzzle Huddle's puzzles are $11.95–$19.95 depending on the size.