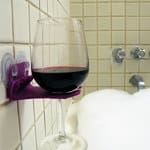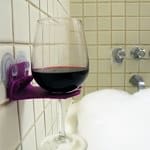 Some of the articles of interest to working mothers that we've seen around the web recently…
So, you may have seen those sippy-cup wine glasses, or the ones labeled "Mommy Juice." Well, Hello Ladies introduces you to the latest mom-friendly wine accessory, which gives you a place to enjoy your wine in the shower.
Kat's had gray hairs since she was 26, but they seem to be multiplying every time her toddler learns a new death-defying trick… Lucky tells us 6 ways to cover up grays fast, at least at the roots.
Our hair has a tendency to change after pregnancy (with some changes welcome, others not so much!); Alpha Mom answers a reader question about the aftermath of getting highlights.
Long-but-good read: in the Atlantic, Stephen Marche writes about work-life balance and poses this question, among others: "Where is the chorus of men asking for paternity leave?" What do you think of Marche's essay?
Cribsters features a post from a mother who works full time but don't suffer from "working mom guilt."
Hmm, maybe she has one of the jobs on this list — Glassdoor's 20 best jobs for work/life balance, via the Muse.
Working Moms Against Guilt gives some advice on getting back to a workout routine after having a baby.
Could you eat well for $4 a day? This free cookbook (PDF download) shows you how, via Lifehacker. Other good recipe sources: the $5 Dinners blog and the Food Network's Ten Dollar Dinners. Any other thrifty recipe sites (or cookbooks) you know of?
Make sure to check out the news update over at Corporette!
On Corporette Recently…