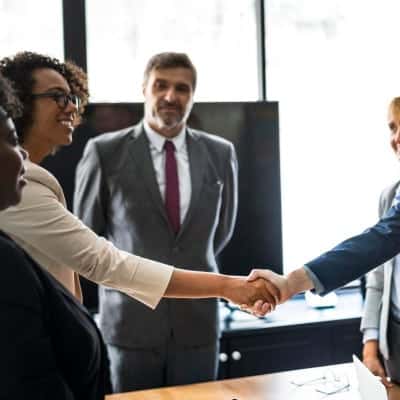 Today, let's discuss and share our best networking tips for working moms!
I'm curious if I'm the only one: I really, really struggle with networking post-kids. So I'm curious, ladies: how do you fit networking into an already packed schedule as a working mom? How far in advance do you schedule networking events and conferences?
Do you try to attend "bang for your buck" type things (where you can go to one event and see many people), or do you limit the time you spend at events (I have 15 minutes to see X, Y, and Z and then leave)? Do you spend more time researching networking events (which to go to, who to talk to) than you used to? And how about one-on-one networking, such as follow-up lunches, catch-up lunches, and more — are those more difficult to fit into your schedule now?
A related question: do you find that networking downward, such as attending alumni events to help mentor and sponsor younger women, is harder to fit into your schedule? Are you stingier with your time than you used to be?
For my $.02: It may be that my eldest is a bit of a handful and my youngest is still so young (under a year!), but networking is still a struggle.
It's a struggle to make an affirmative plan to go to the event, and it's a struggle to muster the energy to be engaging and vivacious at the end of a long day. Then — if I actually make a new connection, or reconnect with an older connection — it's a struggle to find time for the follow-up conversation.
I keep hoping it'll get a bit better when the boys are just a bit older, but… well, it's a struggle right now. So what are your networking tips for working moms, ladies? 
Further reading:
All current images via Stencil. (Originally pictured: Adaptive Path 5th Anniversary, originally uploaded to Flickr by Scott Beale.)