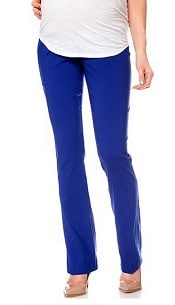 Maternity style is all about the basics for most working women — the black dress, pant, and blazer; a white blouse, a few extra skirts. One pair of "fun" pants, though, can go a long way towards making you feel like you've got more of a wardrobe — and you often need maternity pants a lot earlier than you need maternity dresses or the like. I like these happy cobalt ankle pants at Macy's, which look flattering and versatile. Wear them with Pucci colors for a fun spring look, or keep them muted with grays, blacks, whites, and other neutrals. A less memorable, but still non-standard pair of pants is
here
. P.S. Pregnant ladies, please visit our new
Maternity Shopping for Work
page. I decided to create it because a) for work style, it IS all about the basics — but as far as editorial content goes, it gets a bit repetitive because hey, I can only feature the Seraphine knotted dress or the Gap washable maternity trousers so many times, right? So there are "Maternity Classics" at the top of the page — these items have all been around for a long time (years in some cases), and would be a great place to start your wardrobe. Second, odds are you're buying your maternity wardrobe in a few shopping sessions rather than slowly — so at the bottom of the same page you'll also find a fun grouping of trendier, seasonal pieces. We'll still feature one item here on Maternity Mondays, but I hope the new page will be a help to you.
(L-3)
Sales of note for 12.7.23…
(See all of the latest workwear sales at Corporette!)
See some of our latest articles on CorporetteMoms:
Click here to see our top posts!
And — here are some of our latest threadjacks of interest – working mom questions asked by the commenters!