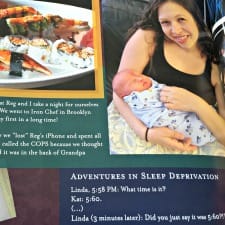 These years go quickly, don't they? They're filled with so much fun and wonder — some of it captured by photos, some of it captured by videos. But there's more than just the pictures, and I'm such a sentimentalist I want to memorialize and remember all of it: the quotes, the daily schedule, the obsessions of the moment, the little milestones (first popsicle! first "good" day at
daycare
! first time watching Star Wars!). I've described before how I try to
organize family photos
and "process" them, and my current end goal for the photos is to put them, along with other written memories, into a yearly photo album made in Shutterfly; my thinking is that I'll appreciate these more than a traditional
keepsake journal
. Minor problem, though: I'm several years behind on my photo albums at this point. (I have 2013 and the second half of 2014 about 80% done, I swear!) So my challenge has been getting all of the written memories in one place so they can be processed at the same time as the photos and ultimately memorialized in the family album. (Pictured at left: 2014 Part I, memorializing that time right after H was born that I told my mother the time was "5:60" and what at the time we thought was an absolutely hilarious lost iPhone story. Also: first sushi after childbirth, always an important milestone.) Over the years I've come up with different strategies for remembering all the little things I want to remember about the kids and our family, but my strategies are far from perfect, so I'd love to hear what you guys are doing too. Some of the things I've done:
Take a screencap of a text-messaged exchange sharing quotes or other funny stories: Sometimes I'll write a funny quote or share a story with my mother via text, or send a picture with a brief explanation, and when I look back to do the family album there's only the picture and a vague memory about why it was so funny. So I've started taking a screencap of the text message so it gets saved with the photos on my phone and processed with all the others. Here's how to take a screencap on an iPhone.
Take notes: Every few months I'll try to sit down with my husband, think of everything the kids are doing "now," and memorialize it into an email or other document that I save with the photos. (Examples: "J loves swimming and the Wild Kratts! H loves the app 'Busy Shapes' and is kind of obsessed with spinning tops and other things. H is very particular about which lights are on and which are off.") Some of it is nothing (or it's a repeat of something I've written down before), but when I come across it a year or two later I often find myself saying things like "awww, I forgot that," or "my goodness, how could I forget THAT stupid talking toy?"
Send emails to myself and label them "photo album." If I'm sending a funny story to the grandparents via text, I often try to include my email address on the group text message so I can file the message away later.
Keep a mini-diary of the kids. This is my latest method: I bought an Erin Condren yearly planner and am recording quotes and other mini-milestones (first time watching Indiana Jones!) for each day. My Condren planner is beautiful but it was ridiculously expensive; this $12 Ban.Do planner on sale at the Nordstrom Anniversary Sale (August 2016-December 2017!) looks like it would functionally be about the same. Because there are only a few lines for every day it isn't too intimidating — and I don't feel bad if I go several weeks without writing anything in it. (Pictured at right: my entry from Christmas Eve 2015, memorializing the toys that the boys were most excited about — in my family we open presents from family on Christmas Eve and presents from "Santa" on Christmas morning.) I also have Q&A a Day for Kids: A Three-Year Journal, which features a daily question for you to ask your child (e.g., "If you buried a treasure chest what would be in it?" and a few lines to write his or her response.
Digital methods: I haven't used Cozi, but a girlfriend of mine loves it. It's a family app that lets you sync schedules, grocery lists, and recipes, and it has a "journal" section as well, which might just be perfect for these little memories.
Other more traditional keepsake journals: I have a few other books lying around, like the Mom's 5-Second Memory Journal (it's more about who you are than anything happening with the kids at the moment) and the My Quotable Kid book, but I fear both will be hard to "process" in to my photo album system or otherwise really revisit. Another option is One Line a Day: A Five-Year Memory Book, which only requires a few minutes a day and is $10 on Amazon.
So let's hear it, ladies — how do you remember the little things? Do you have a better system — or a better memory? Do you like one of the more traditional keepsake journals on the market, or do you keep your own with a life planner or other diary?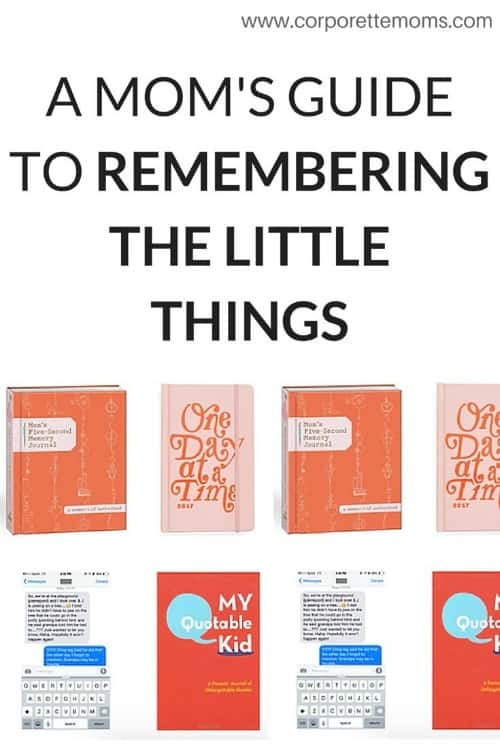 We are a participant in the Amazon Services LLC Associates Program, an affiliate advertising program designed to provide a means for us to earn fees by linking to Amazon.com and affiliated sites.