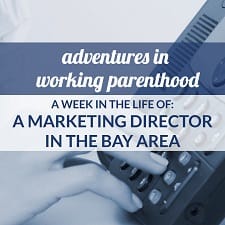 For this week's installment of our Week in the Life of a Working Mom series, I'm happy to introduce CorporetteMoms reader C, who lives in the Bay Area suburbs with her husband and two kids and works as marketing director. Our usual caveat applies: Please remember that this is is a real person who has feelings and isn't gaining anything from this, unlike your usual friendly (soul-deadened, thick-skinned, cold-hearted, money-grubbing) blogger — so please be kind with any comments. Thank you! – Kat
If you'd like to be featured (anonymously or otherwise), please fill out this form! You can see all posts in this series here.

First, Some Basics About This Working Mom…

Name: C
Location: Lives and works in the suburbs of the Bay Area
Job: Marketing director for a mid-size consumer goods company
Age: 37
Hours worked in a typical week: 35–44
Home Situation: I live in a 2,400-square-foot home with my husband (39-year-old finance director), our kids (5-year-old daughter, 3-year-old son), and our 13-year-old cat.
Childcare Situation: Daughter goes to after-school care and son is in preschool full time, $1,700/month
A Week in My Life
Sunday
8:15 a.m.: Head out for Zumba class while husband feeds kids breakfast.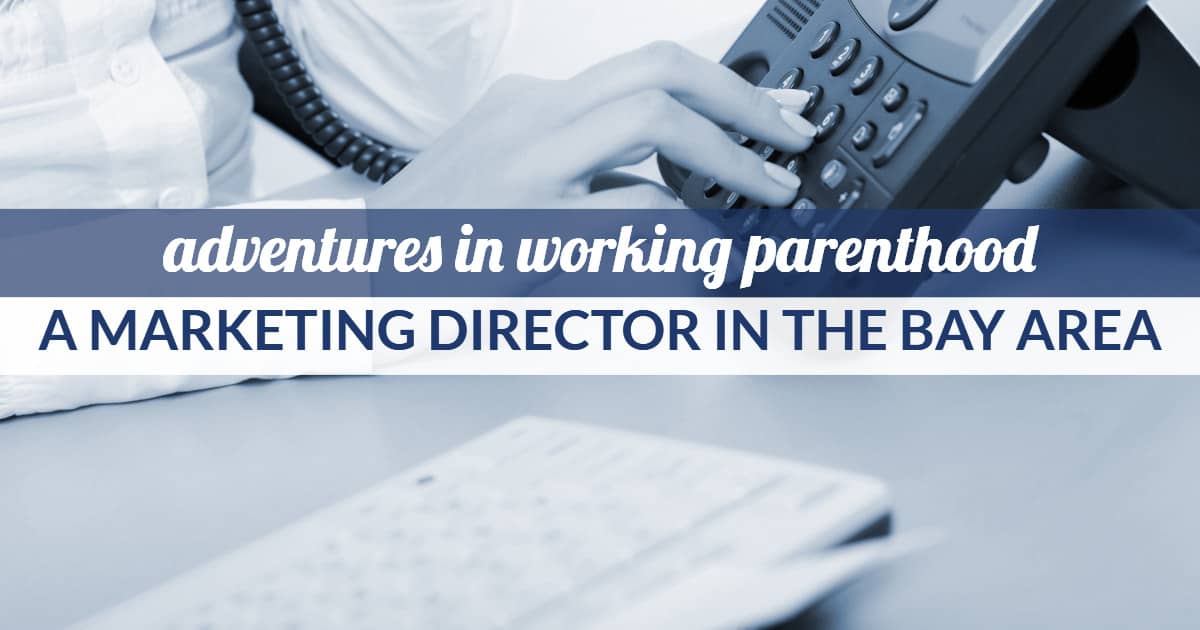 9:45 a.m.: Cook beef stew in my Instant Pot to bring for workweek lunch.
11:00 a.m.: Go to church. After service, help the kids to pizza and watch them dig for roly polys while I half listen to the congregational meeting.
1:00 p.m.: I text my husband what we need from Trader Joe's for the week because I can't handle that place on a weekend. Head home with son to take a nap while husband takes daughter with him. Read my Kindle before nodding off.
3:00 p.m.: Make shrimp scampi risotto in Instant Pot for our dinner party and watch a movie/read with kids.
5:00 p.m.: Friends come over for dinner. Sync calendars for next play date. (Next free Saturday that matches is three months out!)
7:30 p.m.: Get kids ready for bed. Put on soothing undereye patches to minimize the dark circles I've had since baby #1, and tidy up family room and kitchen. Do other misc. tasks like order sis-in-law birthday gift, queue up Kindle books on library waitlist, make plans for next weekend.
10:00 p.m.: Hang out with husband, and lights out at 11:00 p.m.
Monday
7:00 a.m.: Everybody is up. My husband is in charge of the kids' lunch and breakfast while I take care of dinner. He usually prepares a smoothie in the Magic Bullet the night before and blends it first thing for the kids' breakfast. I prepare their backpacks.
7:50 a.m.: My daughter's carpool comes to get her, and my husband leaves for work.
8:10 a.m.: I drive my son to preschool then go to the dentist for fillings.
9:30 a.m.: Arrive at work and pour myself a cold brew. Check my calendar and confirm I have late meetings two times this week. I work with Asia so it's necessary to talk at night on a regular basis, but once a month we have longer meetings. At least I'm not traveling to Asia as often nowadays. (I was going every month for a period of time.)
2:30 p.m.: Make a quick trip to the store to pick up cat food and my son's skin cream.
5:15 p.m.: Leave the office to get the kids from preschool and aftercare. Drive them to my in-laws' house for the annual family corned beef & cabbage dinner.
8:00 p.m.: Arrive back home, get kids ready for bed, and then hop into shower myself.
9:30 p.m.: Update my kids' weekly blog for family members to see what we are up to. Study Chinese and finish a Kindle book.
10:45 p.m.: Lights out.
We asked C to tell us more about the blog she keeps for family:
Throughout the week I make a conscious effort to take pictures of my kids on my iPhone whenever they do anything funny or interesting. Then once a week I write a short blurb on the highlights of the week and post my favorite pictures onto Tumblr. It's as much for our family as it is for me to remember what we did last weekend. Once a year I make all the posts into a printed album and add it to my coffee table collection.
And about how she deals with her work travel: 
This year I'm traveling to Asia quarterly, usually leaving on a Sunday and returning by Friday. Before each trip, I make a huge vat of soup and leave a very detailed daily checklist for my husband. During the trip, I stay up each night to "have breakfast" with the kids via FaceTime. Luckily my in-laws also help out a ton while I'm gone.
Tuesday
7:00 a.m.: Everyone up. After I get backpacks ready, I cut up broccoli in preparation for dinner. If I take care of the fresh veggies in the mornings, then chances of cooking it for dinner are much higher. Husband drops daughter at school and I drop my son.
9:00 a.m.: I arrive at my private weekly Chinese lesson, which is an awesome perk of my job.
10:10 a.m.: Get to the office.
12:00 p.m.: Eat lunch at my desk and order the next day's lunch online since my work subsidizes delivery service one day a week.
5:17 p.m.: Rush out of the office to do pickups. I changed jobs about a year ago so that I could be closer to home but it still takes me an hour door-to-door with local traffic and two different schools.
6:15 p.m.: Once I get home, I usually aim to get dinner on the table in 10–15 min. Only once the kids are settled and eating do I change out of my work clothes and join them. Clean out backpacks and load dishwasher so that when my husband gets home he can focus on consuming the plate of broccoli we left him.
7:00 p.m.: Start bath, bedtime routine. Since I was rushing to leave the office I didn't get to finish an important email, and the thought of it kept bugging me this whole time. While the kids are on the iPad, I log back on to my computer and send off the message.
7:35 p.m.: Kids and I play a game and start stories as my husband comes home. He has an hour and a half commute, so in order to skip some traffic he usually doesn't get home until the kids are right about ready for bed. We take turns reading to each kid.
8:30 p.m.: Take a shower, then eat some snacks while watching travel food shows on YouTube with my husband. Hang out with my cat, journal, and do devotions.
10:45 p.m.: Bedtime.
Wednesday
7:00 a.m.: Carpool takes daughter to school and husband takes son so I take my time and get to work by 8:45.
11:30 a.m.: Take advantage of free weekly High-Intensity Inferno Pilates class at work.
3:00 p.m.: We need something from the grocery store for work so I also pick up dumplings and fresh vegetables while I'm there anyway.
6:20 p.m.: Late meeting ends early, whoo-hoo! After I get in my car realize I left the dumplings in the office freezer even though I left myself a huge post-it on my computer screen that said "DUMPLINGS!" Husband got kids today. I get home in the middle of dinner preparation and jump right in.
8:30 p.m.: After getting the kids to bed, I shower and think about the emails that still need to go out. Put on a facial sheet mask before I get back on the computer. After finishing work, I email my community group to coordinate our next biweekly get together.
9:30 p.m.: Study Chinese and then unwind with my People magazine before bed.
10:45 p.m. Lights out.
Thursday
7:00 a.m.: Look out the window and see the freeway traffic looks crazy. Offer to switch drop-offs with the husband so neither of us are stuck in the rainy mess. This means I have to leave the house by 7:50 a.m., so I skip breakfast. Pick up an iced coffee and grilled chicken + egg white sandwich at Chick-fil-A on the way to work.
12:20 p.m.: Eat lunch and catch up with friends via text. Sign up to bring the easiest thing left on the class party list.
2:00 p.m.: My offsite meeting ends early so I detour to Old Navy to remove the security device shipped with my online purchase, then head back to office.
6:00 p.m.: I leave the office to get kids from in-laws' house. In-laws usually pick up 1–2 times a week. We factored in proximity to their house when buying a home, and it's been a lifesaver many times.
7:00 p.m.: Start usual bedtime routine, and I also vacuum the house. Right after stories and bedtime I hop back online to do work.
9:00 p.m.: Shower, waste time on Facebook, and buy a new blow dryer. I calculated how many hours a year I could save if only I could dry my hair faster and convinced myself the splurge was worth it. Then I started a new page turner on the Kindle.
11:25 p.m.: Lights out.
Friday
5:20 a.m.: Woken up by the sound of my son coughing. Make sure he's okay, then I have trouble getting back to sleep.
7:45 a.m.: Rush out of the house to do carpool and volunteer at the school, which I usually do for one hour every week. It's how I keep a pulse on what's happening in class since I rarely step foot on campus otherwise. After volunteering, I see one of my good friends in the parking lot and pop into her passenger seat to chat for a bit.
11:45 a.m: Head to lunch with a couple coworkers.
5:15 p.m.: Leave work to pick up the kids. Pick up the cat's medicine then head home.
7:00 p.m.: After I bathe the kids I clean our toilets. Let's be honest — when I was younger and pictured my life at the executive level I didn't think I would be scrubbing toilets on Friday nights. My husband doesn't believe in hiring professional cleaners more than once a year, and it's a big point of contention. I don't mind cleaning, but frankly I suck at it compared to everything else I do.
7:30 p.m.: My husband came home earlier today so we all play games and race some cars with the kids before story time.
9:30 p.m.: Read and play Words with Friends.
11:20 p.m.: Lights out.
We asked if C would tell us a little more about the "cleaning debate" at her house: 
My husband cares about certain things like clean dishes and floors. Beyond that, he doesn't really acknowledge dust, dirty toilets, etc. I think he physically just doesn't see what I see, so to him the house is clean while to me it's pretty gross. As a result I'm constantly spot cleaning, but about once a year I just can't take it anymore and hire someone for a real deep clean.
Saturday
8:00 a.m.: Get up while the kids are downstairs eating breakfast. After breakfast we tackle our weekly laundry. My husband folds his own while I fold everyone else's with some assistance from the kids. Organize the closets a bit while I'm at it.
9:30 a.m.: Take my daughter to dance class. All her other extracurricular activities take place as part of her after school program because otherwise there's just no way to fit that into our schedules.
10:45 a.m.: Once home, I do more cleaning and make the kids' lunch. Normally with a free afternoon we would go for a family hike, but it's been too rainy so we settle in on the couch instead. I keep trying to sneak in chapters of my Kindle while I can.
4:00 p.m.: My husband and kids head to Trader Joe's while I pick up my mom, sister, and niece from the airport. My husband and I make them dinner, give the kids baths and stories.
7:30 p.m.: After kids are down, we have date night. We rarely get these nights since we usually only go out when there's visiting family that help watch the kids or school/church offers parents' night out. My husband and I go out to eat hot pot and get massages.
10:30 p.m.: Get home and finally finish the book I've been reading all week.
11:30 p.m.: Lights out.
Thanks so much to C for sharing a bit of her life as a working mom! Readers, what's your biggest takeaway from her week of work as a marketing director, as well as her general work/life balance?
Stock photo via Deposit Photos / SergeyNivens.