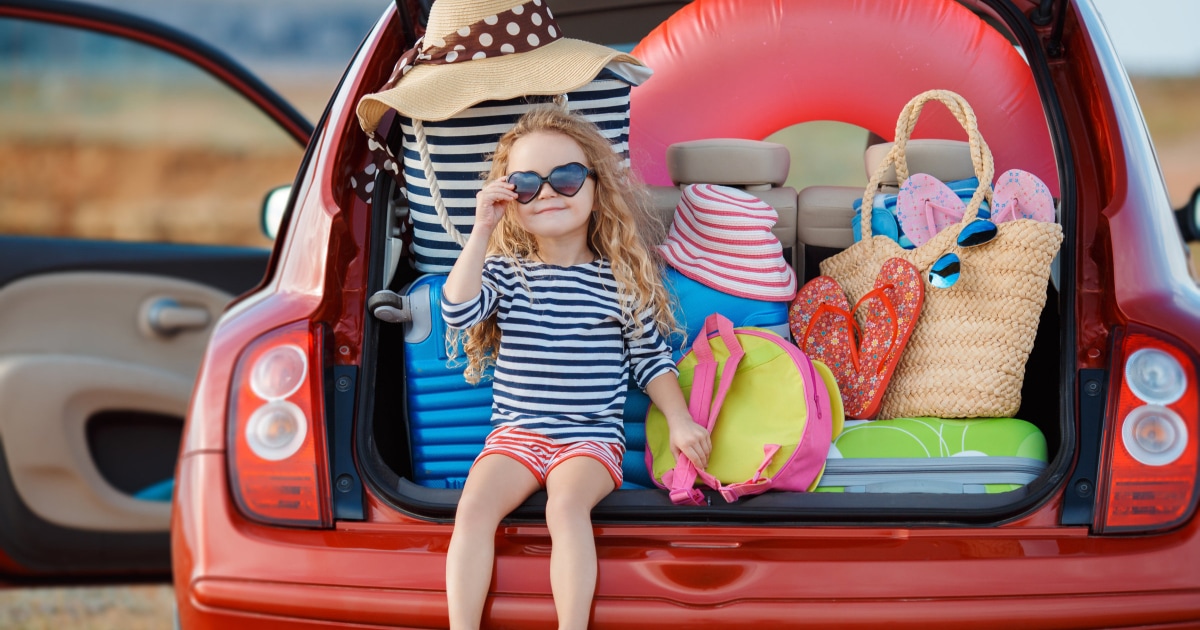 Flying with kids
is one thing, but going on a road trip with kids requires a slightly different set of tools. Whereas for a flight you need to time your boarding, pack smart snacks to help with ear pressure, and gauge how much crap you can shove under the stroller, a road trip requires different toys and other considerations. Here are some of the things I've learned to bring along on a road trip, both for ease of travel and for a peaceful, multi-hour stretch on the road… I'd love to hear yours.
This post contains affiliate links and CorporetteMoms may earn commissions for purchases made through links in this post. For more details see here. Thank you so much for your support!
Headphones
While the
American Academy of Pediatrics
say children should be limited to two hours of screentime a day (although apparently
it's more complicated
than it used to be!), I'm quite sure they don't mean on travel days. (If you stick to those guidelines on travel days, my hat's off to you!) Occasionally different family members want to listen to different things, so headphones are just as important on a road trip as they are in a plane trip. You can get
splitters
for using two headphones with one device, on the unlikely possibility that everyone in the backseat wants to watch the same thing, but there you go.
Papers, Crayons, and Markers
We bought a
lap desk
for my older son when we took our first road trip, and I'm pleased to report that he's used it every time — it breaks the monotony of the road and videos and gives him something to do. Note that this is not the time for crafts involving glitter, glue, paint, or even water — you just want the kids to be able to entertain themselves.
A Sheathed Knife
I can't tell you how many times we've happily arrived at a destination 2–6 hours from our house, and ordered pizza or something else, only to realize that we desperately need a knife. Buying a sheathed knife to keep in your road travel supplies (like
this one
) is a great idea, and because you're road tripping — no TSA involved! — you can do it. Just don't forget to wash the knife ASAP when you get home.
Car Shades
Particularly with babies,
these stick-on window shades
are a great help — though in a pinch, a hat will also work to keep the sun out of your baby's eyes.
Time it Right (aka, Pray for Sleep)
To be totally honest, we didn't take a lot of long road trips when the kids were very, very small — they were always at an age where they could appreciate their iPad games or favorite movies or whatnot. But even now, when one of my children still has an early-ish bedtime of 7:30–8:30, we plan trips knowing that if we have to drive until midnight or 1:00 a.m., it isn't quite so bad and it gives us
3–4
hours of a quiet backseat while the kids sleep.
Presents
Ah, yes. Presents. Buy the gifts, wrap them up, and surprise the kids with something new and never before seen. This is the advice I always see, and it's solid — the dollar bin at Target is great for this, as are small coloring books, stationary games and more (think
Water Wow
,
magnetic blocks
, and even some of these
retro arcade game minis
for the older kids). Obviously bouncy balls and slime are less than ideal, but a good squeezable toy, a pack of Pokémon cards, or (if you've got a kid who's really young and still teething), something chewable and safe enough for the backseat are all greatest hits.
Readers, are you fans of road trips with your kids? What are your best tips for surviving a road trip with kids? How do you entertain your kids on road trips?
Stock photo via Deposit Photos / golyak.
We are a participant in the Amazon Services LLC Associates Program, an affiliate advertising program designed to provide a means for us to earn fees by linking to Amazon.com and affiliated sites.