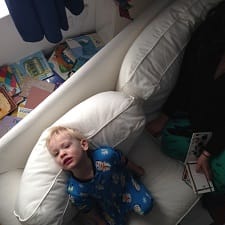 Readers, what are your best tips for how to handle a defiant three-year-old, aka the threenager (or a kiddo in the terrible twos)? How do you deal with discipline as a working parent in general — and how do you get your nanny or babysitter on the same page?
Everyone says the that the twos are terrible, but for us it was the threes that have been truly, truly horrible with both kids. When my eldest, J, was a threenager, we were giving him time-outs on a regular basis.
(That's him pictured — after a particularly rough night we woke up to find that he had stripped the bookshelves in his room and thrown all of his books in a pile behind the couch in his room. Sadly, I have no good picture of the time he painted the same couch with poop.)
We were constantly frustrated and screaming, and it felt like we were never, ever, ever going to be able to live in peace with our child again. Then, one day we sort of looked at each other and said, "Huh… we haven't given J a time-out in a thousand years. That's so weird." It had just sort of ended.
Now he's a perfectly insane six-year-old who gets up to his own mischief, but thankfully we're mostly past the screaming/time-out stage of things. But: now my youngest, H, is three and a half, and if the slightest thing goes wrong, he is screeching and screaming. He excels at making messes, and his favorite thing right now is taking a pillow and throwing it to knock things off of high shelves. Charming!
(It's also interesting to note that in the classic, must-read POOPCUP article, this is a growth stage for parents also — the article was joking about how parenting is pretty easy for "parents of one perfect child under preschool" age, but stuff starts to hit the fan once you get into the preschool weeds. Here's our whole roundup on great articles on pregnancy and motherhood…)
We've always favored time-outs in the tradition of the book 1-2-3 Magic (affiliate link) because things like sticker charts don't seem to be sufficient motivation for either kiddo — but in writing this post I've realized there's some drama around the theory of time-outs, so now I'd really love to hear what you guys say!
How have you handled a defiant three-year-old in the past — and what disciplinary methods have you preferred? How do you generally handle discipline with your children? How have you communicated those desires to your nanny, au pair, babysitter, or other childcare provider?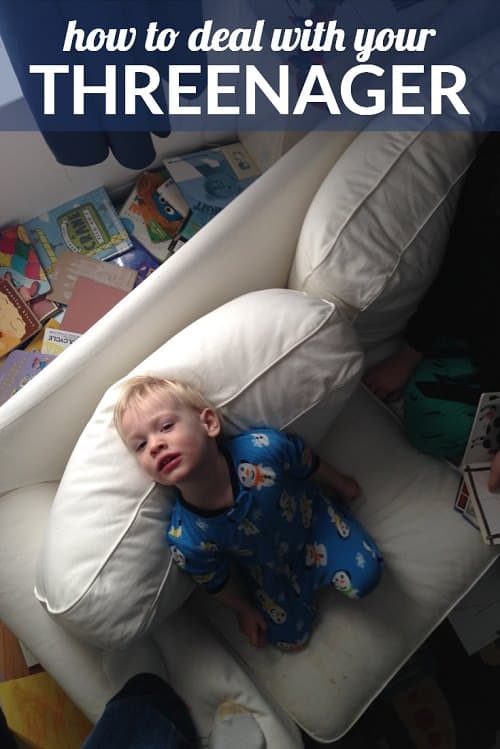 We are a participant in the Amazon Services LLC Associates Program, an affiliate advertising program designed to provide a means for us to earn fees by linking to Amazon.com and affiliated sites.