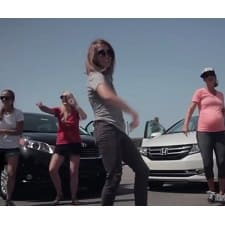 A girlfriend of mine just moved to the suburbs, and she had the most brilliant tip for how to find the right car for your family: rent it first for a family vacation! I've often heard people advise to rent a minivan for vacation — more space, more enjoyable if you've got a long drive — but I thought this mom hack was such a smart way to make sure they chose the best car for their family.
As a hilarious side note: I was thinking about this older YouTube video called The Swagger Wagon about some parents who really, really like their Toyota Minivan — but have you seen this newer video from the mom group The Texting Yogas, "Never Thought I'd Do It," about buying a minivan?
For those of you who drive regularly (a good number of you, according to our survey!), do you have a "mom" ride? How did you choose the best family car for you? What do you like or dislike about your car? How important was fitting three carseats in your backseat — or being able to drive with three adults and two car seats? (Any car accessories that you absolutely love, for kids or otherwise? We got one of these sandbag Garmin Portable Friction Mounts for my parents and they absolutely love it, compared to the GPS thing that never stuck to the windshield — but note that such mounts are apparently are not allowed in every state.)
Further Reading:
Social media images via Pexel.