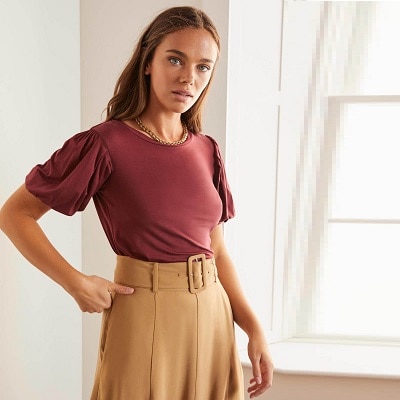 I've been trying out different "looks" during my Skype/Zoom meetings. Low bun with earrings… blazer… full makeup… no makeup except lip color… etc.
One thing I reach for again and again in my closet, however, is a top with puff sleeves. The way my laptop is set up, you can only really see my face and the tops of my shoulders, and I've found that a top that has interest at my shoulders or neckline looks the most "dressy." With the crappy lighting, you can't even really see lapels on a blazer, so most of the time I don't even put one on.
All this to say, I love this puff-shoulder top from Boden that comes in four colors. I love the longer length, and the material is viscose and elastane, which surely will be comfy.
The top is $50 and available in sizes 2 to 20/22. Holly Puff-Sleeve Jersey Top
Two plus-size options include this Eloquii top for $59.95 and this one from Adrienne Vittadini for $48.