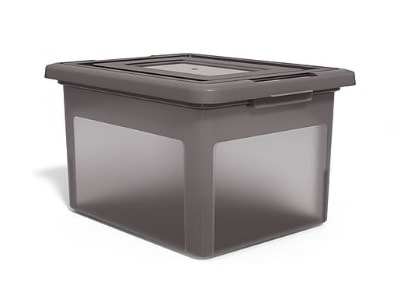 As much as I thought working from home (aka living at work) was going to be temporary, it's looking more and more like it's not. The piles of folders I have lying around and the general file I'm throwing everything into on my home computer desktop, "COVID-19 Work," need a more permanent and more organized solution.
I never knew that file cabinets were so darn expensive until I was browsing for a way to organize the files I took home from my office. Even the smallest and ugliest ones are approaching $100, and then you're stuck with an ugly file cabinet in your house.
I found these plastic bins, and they solved my file organizing problem. They fit both legal- and letter-sized files (and you need to purchase hanging folders like these to use with it). I like how all of my files are finally in one place, and I can move the bin around to where I need it.
A single file box is $10.99 at Staples; a set of four is $39.99. Hanging File Box