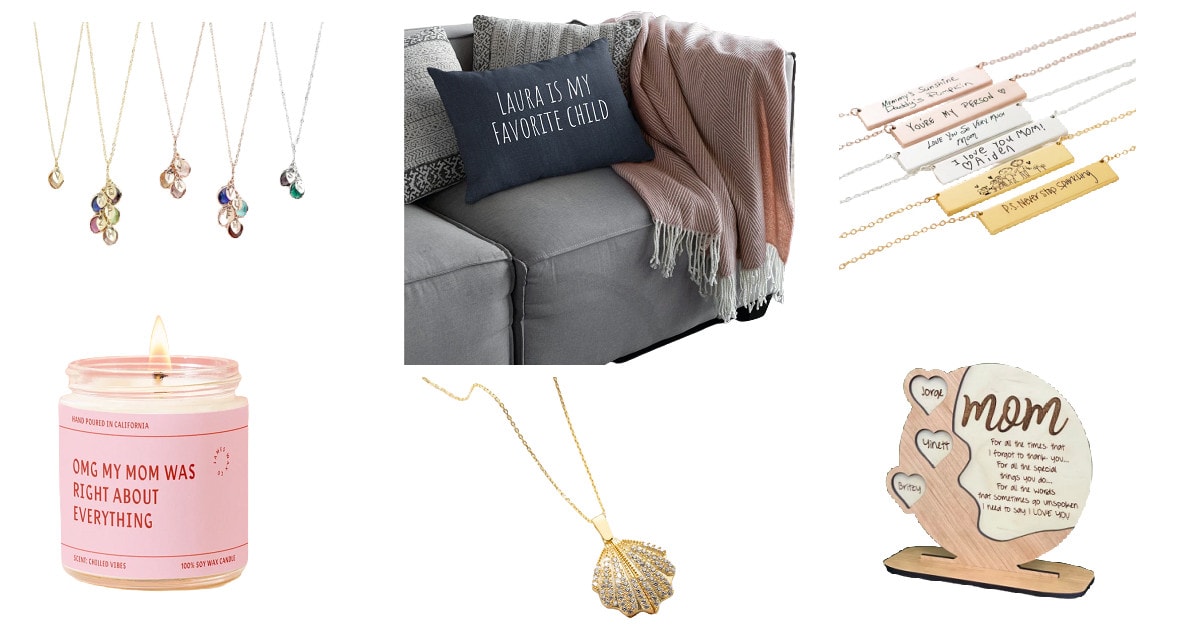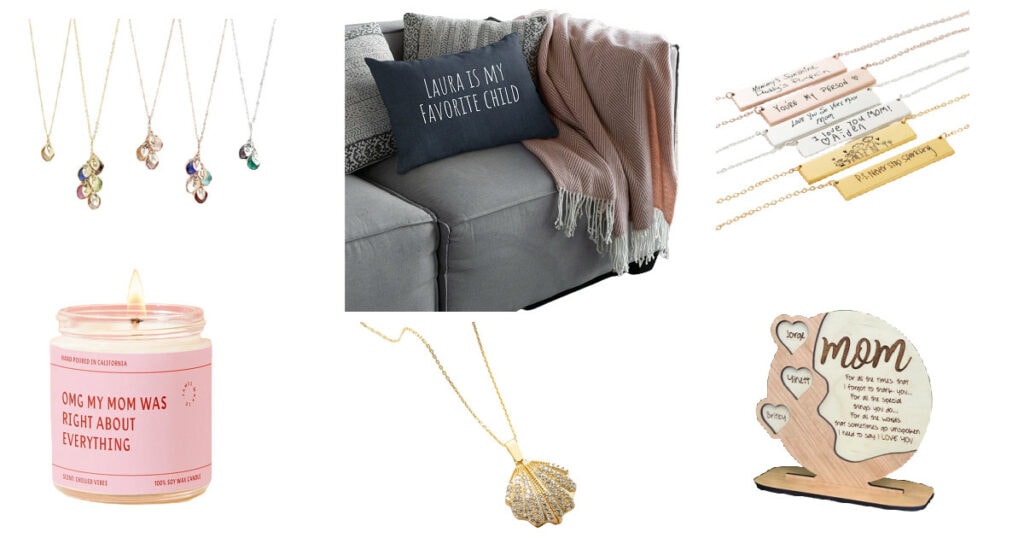 Still hunting for something to cute to get your mother, to "suggest" for your mother-in-law, or even to suggest for yourself? We're rounding up some cute options that are still available on Etsy…
This post contains affiliate links and CorporetteMoms may earn commissions for purchases made through links in this post. For more details see here. Thank you so much for your support!
We are a participant in the Amazon Services LLC Associates Program, an affiliate advertising program designed to provide a means for us to earn fees by linking to Amazon.com and affiliated sites.
Great Gift Ideas for Mothers' Day
Personalized Cherrywood Plaque
This personalized cherrywood plaque is one of the more sincere options — I like that you can customize it with kid names, and I think it would be great for a mother or grandmother. It's $19.99, comes in 2 styles, and you can choose from a few pre-selected messages or totally customize your own.
It's $19.99 and says it will arrive by May 4-11 if the order is placed today.
(You can also find personalized plaques featuring photos, like this one!)
Handwriting Jewelry
I've had drawings of my kids turned into necklace pendants (2x now from seller GracePersonalized!), but I haven't taken a handwritten phrase and turned it into a necklace or bracelet. I like the idea of how absolutely personalized it is, and I like that you can get it in 6 different finishes for $29-$36. You can also choose the length (14″-22″), but for my $.02 I'd only get 14″ for a child unless you love the choker look, and I feel like anything past 18″ would be way too long.
Seller CaitlynMinimalist is a 5-star seller and does a lot of pieces like this; if ordered today it would arrive between May 8-18.
Maybe I'm totally morbid, but I could also see this kind of gift — handwriting jewelry — turned into a great gift for your siblings after your mother is gone.
Personalized Oyster Necklace
I haven't seen oyster necklaces before! The idea here is that what looks like a simple pendant hinges open in the middle to reveal an engraved plate; they show it here with children's names as well as dates. I think this would be a lovely thing to get for the grandmother who adores her grandkids, but isn't into the usual locket/birthstone kind of fare.
The pictured one is $35, and ships between May 4-9 if purchased today. You can choose 3 different finishes and lengths between 14-24″.
Seller FreeWingsJewelry makes a lot of these hidden lockets– you can get a pretty enameled rose, more flowers or hearts, a house, a hamsa, or more.
"Favorite Child" Pillows — and More
Call me crazy, but I could see this being absolutely hilarious if you're the only one among your siblings who actually remembers to get Mom something for mother's day. (What? Just me?)
The pillow is $9.90-$26.90, comes in 11 colors, 6 sizes, and you can choose whether you want the cover or cover + insert.
If you purchase today it'll arrive May 2-9, and returns are accepted.
Along similar lines, you can find a ton of mugs like this one, featuring 3 personalized names, with the first 2 crossed through to declare the 3rd name mom's favorite.
Funny Candles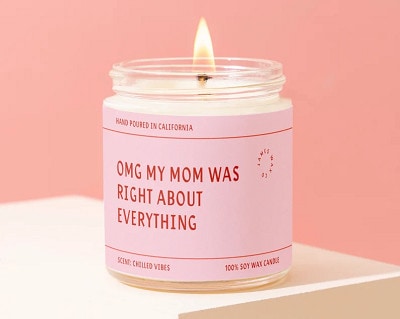 I'll be honest here: the funnier candles use curse words. In the interest of propriety, I'll picture one that doesn't, such as this "OMG MY MOM WAS RIGHT ABOUT EVERYTHING" candle.
It's a 100% soy wax candle, features the scent "Chilled Vibes" (?) and costs $16-$24 depending on size. If you order today, it can arrive by May 1-10.
Other funny candles from different sellers: "Mom, You Were Right About a Lot of Shit" and "I Hope This Smells Better Than the Shit I Put You Through."
Birthstone Jewelry
Last but not least, of COURSE, we have birthstone jewelry. I'll admit this isn't always my favorite — even though both of my sons have green gems for birthstones that are sort of complementary (peridot and emerald), I'm just not a fan of green jewelry that much. Years ago I got my mother stacking rings made from mine and my brothers' birthstones (probably a joint gift) and I really felt like the garnet and sapphire clashed.
Still, I do have (and wear) a necklace like the one above — I don't recall from which seller mine came from, probably because my husband got it for me, but it has the birthstones, a tiny disc with initials, and then an infinity symbol charm, very similar to this one.
The one above is $17-$68, with the option to have up to 8 birthstones and personalized elements. You can choose from gold, rose gold, or sterling silver. The seller promises to ship next day, meaning the estimated arrival is May 1-6.
Another few nice options: this cool baguette-cut bracelet (great for a grandmother or mom who needs a lot of birthstones); this necklace with birth flowers and birth stones looks nice. (These gorgeous birthstone rings also crossed my path, but won't ship until well after Mothers' Day this year.)
Readers, how about you — what are some of the favorite things you've either given or received for Mother's Day? What are you getting your mother, mother-in-law, or grandmother this year?