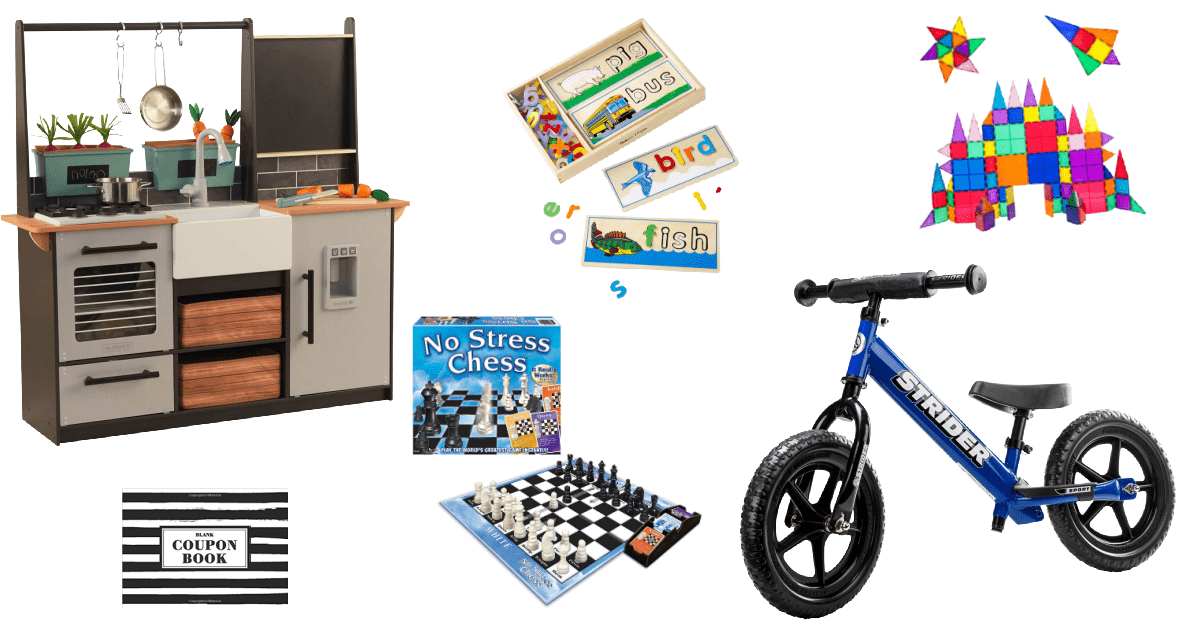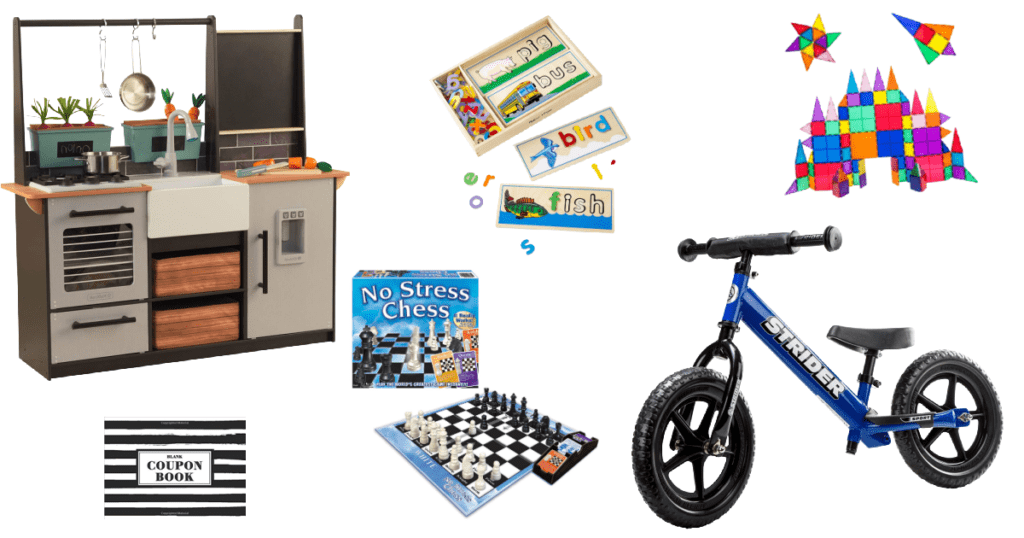 What are your best gift ideas by age group for kiddos? Let's discuss — if you've got a child who just aged out of a certain age group we'd love to hear what they loved while they were in it!
Pictured above, clockwise: play kitchen / spelling puzzles / Magnatiles / balance bike / beginner chess / blank coupon book
This post contains affiliate links and CorporetteMoms may earn commissions for purchases made through links in this post. For more details see here. Thank you so much for your support!
A few thoughts from me on the toys my kids actually played with during the different age ranges…
Ages 0-2 – I think some of the best gifts you can get are experiences for the family! Anything that makes it easier to bring your child along with you — stroller attachments, baby carriers, etc, etc.
Ages 2-4 – Magnatiles! Play kitchens and other pretend play sets. Quality blocks. Anything Melissa & Doug. All the playdoh stuff. My youngest was super into puzzles at this point, also (we loved this one from Melissa & Doug), as well as tangram-type games like these awesome "imagination patterns" from Mindware. A balance bike, Big Wheel, scooter (or all 3) plus a good helmet are good ideas around now. Anything involving water play was also a big hit around this age, including those big water towers for summertime.
Ages 4-6 – My kids still both enjoyed Magnatiles at this age; I'd also say this was a big age for a ton of art projects — having paints, brushes, good paper, and other materials is a big help. Board games also start to be a more reliable gift — there's a huge line of "junior" games from Parker Brothers.
Ages 6-8 – My eldest started to get into Nerf guns and Xbox/Steam/Nintendo games around here. No-Stress Chess is excellent. I think both boys got their own iPad around this point in time also. I've tried to get them into more educational games and apps like Tynker and Osmo but I don't think either of them consider it "gifts." Depending on what their bedroom looks like, now is also a good time to get rid of baby decor and upgrade to "little kid" decor.
Ages 8-10 – My eldest is here now and it's a hard age to buy for — all he wants is Fortnite money and so forth. But he's also at the very beginning stages of the pre-teen years, where Mom and Dad become less cool — I'm hoping in 2021 we'll definitely get more family experiences. I'm also (shhh) thinking of getting him a virtual cooking class to do from afar with his beloved grandma, who he hasn't seen in person for months and months now. I actually just got him a blank coupon book from Amazon that I plan to fill out with things like "breakfast with mom," "day off school," "weeknight movie," etc.
How about you, readers — what are the gifts that actually got played with by age? What gifts are you most excited to get your kids this year — and what are they (or will they be) excited about this year?