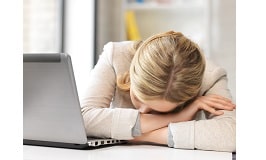 How do you work through your first trimester — and keep your nascent pregnancy on the down-low? Trust me, the exhaustion of the first trimester can take you by surprise, so how do you stay productive at the office when all your body wants to do is nap? (Particularly when you're probably not telling most people!)
When I got pregnant with my first child in late 2010, I was still trying to juggle a full-time job as a lawyer and a nearly full-time second job as proprietor of Corporette. I'd worked long hours in BigLaw and thought I'd seen it all — I had even gotten mono and two bouts of strep throat and barely slowed down. All of this, it turned out, was nothing compared with growing a human being inside of me.
We had a much longer discussion on how to work through your first trimester on Corporette when I announced my pregnancy (including about whether it hurts women to talk about the hardships of pregnancy), but I thought these tips might be helpful to those of you actually trying to work your way through your first trimester:
Wean yourself off coffee and Diet Coke way before the first trimester fatigue hits. If you choose to abstain from coffee and artificial sweeteners during pregnancy, you don't want to be going through caffeine withdrawal at the same time as first trimester fatigue.
Stock up on orange juice, and cut your dependency on vitamin supplements. I kept reading that pregnant women should avoid vitamin supplements during this time (beyond your prenatals) and so I have avoided my beloved Emergen-C. Instead I kept buying OJ when I needed a jolt of energy.
Take your prenatals at night instead of in the morning. I've heard it's the extra iron in the prenatals that makes you nauseous on an empty stomach — but whatever it was, I wish I'd stumbled on the advice to take them at night instead of in the morning long before I did.
Prepare your office for naps. Yes, seriously. Bring in whatever you need to make a comfortable napping environment — pillows, blankets, etc. — because you WILL need naps to make it even to 6pm (let alone 10pm or whatever quitting time is usual for you).
Eat frequently, and guzzle water. It took me a few weeks to realize that the nausea was so  much worse if I hadn't eaten for a few hours — I also would get these whanging headaches if I hadn't eaten. Just a few unsalted Saltines and some cheese can help you function normally.
Readers, what tips have you found essential for managing the pregnancy exhaustion? Do you have any tips for napping at the office?
(Pictured: Shutterstock/Syda Productions.)