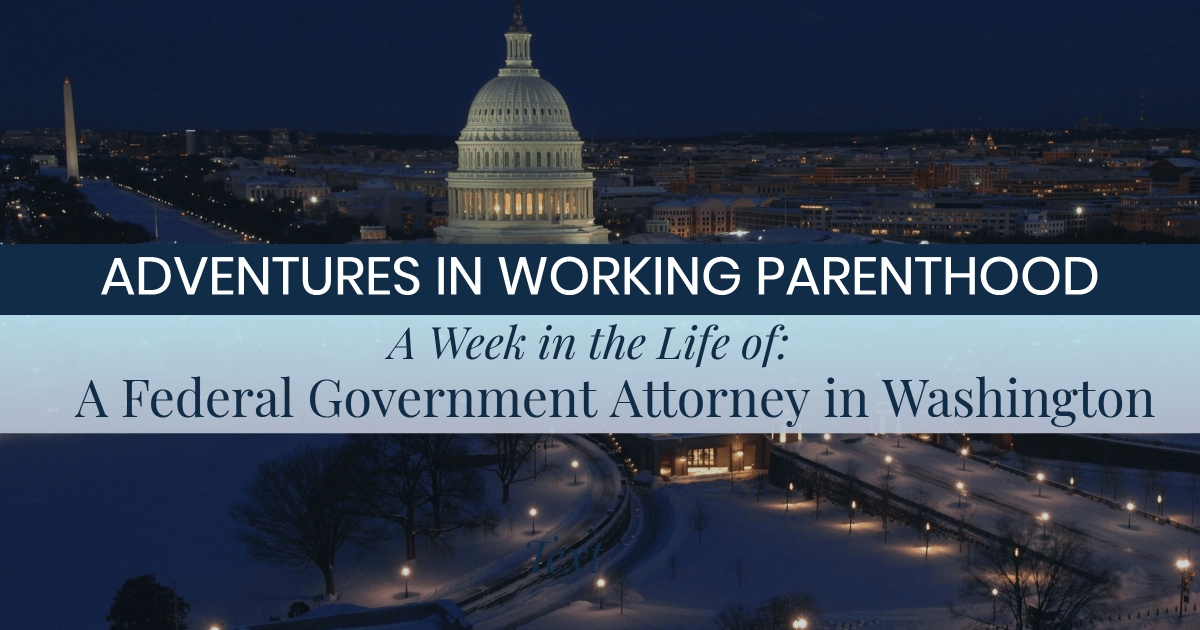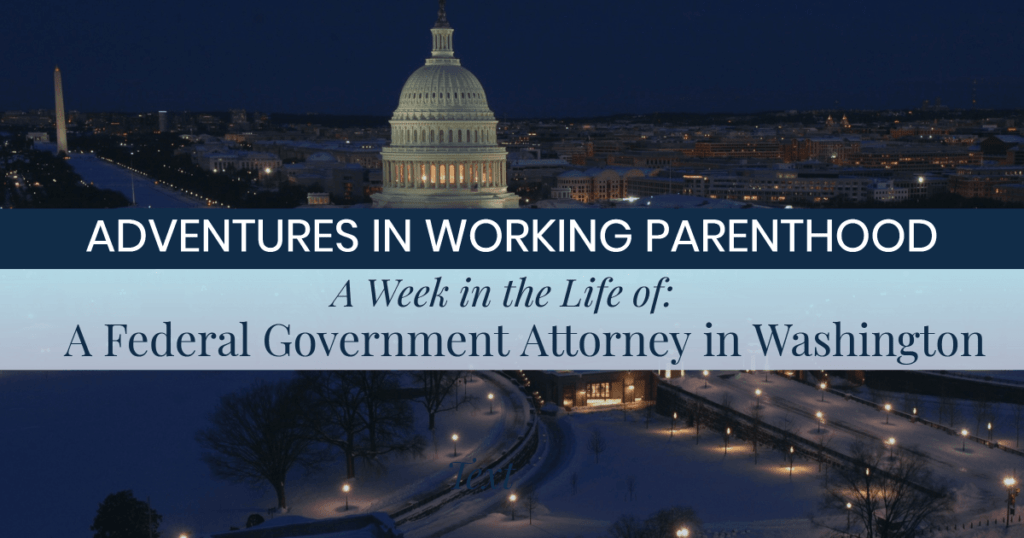 Wednesday
3:00 a.m. 3-year-old comes into my room wanting to snuggle. He stays in my bed for a few minutes and then I return him back to his room and give him a little massage. DH usually handles all of the night wakings (which are not that often but do happen), in part because he strangely enjoys it and he also is able to easily fall back asleep. Unfortunately for me, I'm a very light sleeper and so I toss and turn for the next hour (or even two?) unable to fall back asleep.
6:45 a.m. I'm so tired when the alarm goes off that I accidentally turn it off and sleep in until 8:00 a.m.! Yikes! I hurriedly make lunches, get the kids breakfast, and shower.
9:20 a.m. We leave the house late and I don't get to work until 10:30 a.m. Parenting fail. Side note: I am fortunate to work for an amazing boss who knows that I am often handling the kids on my own during the week. We have an understanding that as long as I get my work done, he doesn't care when I arrive and when I leave. I have an excellent reputation at work and am highly regarded, so I'm afforded this leeway. Also, as an appellate attorney, the work that I do is almost entirely solitary. I have about one meeting a month, and I get at most two or three emails a day. The majority of my day is sitting at my desk reading cases and writing briefs, and every four months or so I'll have an oral argument.
–I have a weekly standing walking date with a girlfriend who works nearby, and we meet up for a brisk 20-minute walk. I'm an extrovert in a friendly but very quiet office, so I make a concerted effort to have lunch plans at least twice a week so that I get some socialization in. Since the nature of my work is solitary, I'll go stir-crazy if I don't have regular lunch plans. It's so windy outside and we're cold, but I always look forward to seeing her and catching up.
1:30 p.m. I get back to my desk and eat a late lunch. (I practice intermittent fasting, so I tend to eat a later lunch and dinner.) I aim to pack lunch every day unless I have lunch plans with a friend. I tend to eat the same thing most days and I actually prefer it that way.
—The rest of the afternoon is spent reviewing a complaint and meeting with a colleague to discuss. (I sometimes help out the trial attorneys when they are swamped, and this is one example.) I text our mother's helper telling her what vegetables to roast for dinner.
5:40 p.m. I leave work.
6:10 p.m. Arrive home. 3-year-old comes running to the door to greet me and gives me a huge hug, which always makes me happy. 5-year-old is busy eating dinner and playing Uno with our mother's helper. I change quickly, join them at the dinner table, and read books to the 3-year-old while he eats.
7:00 p.m. Mother's helper leaves and I give the kids a bath. I eat dinner while they play, and do the usual routine of prayers, books, and songs.
8:05 p.m. 5-year old goes to bed.
8:15 p.m. 3-year-old is in bed but gets up twice for various reasons and doesn't fall asleep until closer to 9:00 p.m. I snap at him for his bedtime antics — I feed bad immediately, but I'm tired and annoyed that he keeps getting up. I really need to work on my patience. Instead of working out, I decide to read Harry Potter. I recently checked it out from the library and plan to re-read the entire series. Of course I get way too caught up in the book and don't go to bed until 11:30 p.m. I chat with DH before bed. He had a frustrating day at work and we talk about it. He mentions how much he misses the kids and me and hates traveling. We also talk about what to do for our upcoming 15th (!!) wedding anniversary next month. I forget to write in my journal.
We asked L to tell us more about her intermittent fasting:
I learned about IF through Corporette and am now going on two years. I had a hard time losing the weight after my second son was born and I felt that I had tried everything — calorie counting, green smoothies, working out most days, etc. The weight didn't budge. After I did IF for three weeks, I lost 10 pounds. I have managed to keep it off and find it pretty easy to do. A few months ago, my weight crept back up after I got into a bad habit of eating way too many sweets. So while IF definitely helped me, it's not going to help if you eat brownies every day. :) After I got serious about cutting out a lot of sugar, my weight went back down. I see myself doing IF for life. Most days, I only eat from 1:30 p.m.–8:00 p.m.
Thursday
6:50 a.m. No night wakings, yay! I make chai and lunch for the kids. I really enjoy making colorful, fun lunches for the kids (not quite Pinterest-worthy but along those lines); my good friend at work and I will often take photos of our kids' lunches and share them with each other for food inspiration. Since the kids are fast asleep, I decide to take advantage of the silence and spend more time on their lunches. I soon have all four burners on with various pots and pans. I also make idlis (rice dumplings) for dinner that evening.
7:45 a.m. Kids wake up and eat breakfast while we read a few books. 3-year-old eats some of his pear, which is a win. (He rarely eats fruit.) It's my 5-year-old's teacher's birthday, so both kids make homemade cards for her. I shower and dress.
9:00 a.m. I drop the kids off at school. I continue reading Harry Potter on the metro.
9:30 a.m. I'm in the office. My boss stops by to discuss a new appeal, and I find out that in an appeal I won last year, the other side has filed a petition for certiorari with the Supreme Court. Boss and I can talk about how frivolous the appeal is, but I'm excited to draft a response since I almost never litigate in the Supreme Court (usually the federal appeals courts only).
2:00 p.m. I'm supposed to meet up with a friend for lunch, but her kid has the flu so I eat lunch at my desk.
6:15 p.m. I get home, sit down with the kids for dinner along with our mother's helper, then do the usual bedtime routine.
8:30 p.m. Kids are in bed, and instead of working out, I finish reading Harry Potter. So good! Husband calls and suggests that we invite my mom to help us out, since we will both be entering a busy time at work next month. I call her and she agrees to come for a month. I text husband and he buys mom a plane ticket.
11:00 p.m. I'm in bed.
Friday
7:30 a.m. My kids wake me up, and we sit down to eat breakfast. Friday is my telework day.
8:30 a.m. Kids are dropped off and I am back home by 8:35 a.m. I love living one block from the school — I have saved SO much time, and it has been life-changing! Husband and I often joke that we should be perpetual renters and just continue to move one block away from whichever school the kids end up at.
–I unload the dishwasher, make the beds, and settle down to work. I need the home to be in somewhat tidy shape before I can get work done; otherwise, I get stressed looking at the mess. I start drafting an outline for a brief; I tend to write extremely detailed outlines before drafting an actual brief and I find that this really speeds up the writing process for me.
–Over lunch, I do a 15-minute Fitness Blender abs workout and throw in a few loads of laundry. We don't have in-unit laundry and the machines tend to get occupied on weekends, so I try to do laundry on Friday if I can. When life is busy, we will use a wash-and-fold service as well. Continue working.
4:30 p.m. Husband returns from his travels, yay! We briefly chat, then he goes to pick up the kids and takes them to the playground while I continue working. I receive an email that the Court has issued a briefing schedule in one of my appeals, and my brief is due in June (two and half months from now). I love the luxury of time I get as an appellate attorney to read and plan and figure out how best to craft my arguments.
–I decide to be ambitious and make sweet potato latkes for the kids for dinner — it's a lot of effort and ultimately doesn't go over well with the kids, boo. But I enjoy cooking and trying new recipes. Kids return home from playground and wash up, I give them the latkes and a backup dinner of lentils/rice and quickly get changed.
6:45 p.m. I give hugs and kisses to everyone and am out the door to meet up for a girls' night dinner. I have dinner with two girlfriends every month and really look forward to these get-togethers. We try a new Israeli restaurant, and the food is delicious and I eat way too much. They surprise me by treating me for my birthday. My friend gives me a ride back.
10:15 p.m. I'm home. DH has done the dishes but the kitchen is not as tidy as I like, and I spend 15 minutes cleaning. I browse the Internet and go to bed by 11:15 p.m.
L told us about her strategies for the days her husband is out of town:
As mentioned, my husband now [travels for work] four days a week. Couple of things that have really helped:

1) I do most all of my cooking on the weekend (that is, when my mom or my mother-in-law are not in town — if they are, they do 100% of the cooking). It's important to me that my kids eat Indian food for dinner, and there is no way I'm going to find the time to cook an Indian meal on a weeknight. I batch cook three or four dishes. During the week, the only cooking that is done is making rice, roasting veggies (which the mother's helper does), or making dosas/idlis (but the batter is made on the weekend, so I don't count that as cooking).

2) When work is too busy, I use a wash-and-fold service that picks up and returns laundry right to my doorstep. We don't have laundry in our apartment, so the service is really helpful when I'm slammed.

3) We have had a mother's helper since my oldest was a baby. She comes to our house FIRST and does chores for the first hour (unloading/loading dishwasher, folding laundry, taking out garbage/recycling, sweeping, making beds, roasting veggies, etc.). Then she picks up the kids from school, plays with them, and feeds them dinner until I get home. This rotating group of college women have been truly a lifesaver for our family.
Saturday
6:30 a.m. Alarm clock wakes us up. Saturdays are our busiest day of the weekend. I shower and make breakfast while husband wakes up the kids and brushes their teeth. Quick breakfast and we leave the house in time for swim class at 8:00 a.m. (yes, really!). I hate the early wake-up time but the kids have a great swim teacher and are progressing, and we haven't found a better alternative.
9:00 a.m. Kids finish up and I hurriedly shower and dress them in Indian clothes for Hindu school, while getting dressed in Indian clothes myself. Husband showers separately and runs to Starbucks to get a second breakfast for kids. We drive to the Hindu temple, which is 35 minutes away. 5-year-old has been attending since he was 3, and my younger one started this year. They enjoy it, and we have made several good friends. After class, we all have a delicious lunch. (Different families take turns cooking.)
12:30 p.m. We leave and are back home around 1:15 pm. We immediately change and put the kids down for a nap. Even 5-year-old, who often doesn't take a nap on weekends, naps on Saturdays because of our busy morning schedule. I take a nap as well. I don't fully fall asleep but enjoy just lying in bed and being quiet for a few hours. Husband is working during this time — he has an incredibly demanding job and works a lot.
4:00 p.m. Kids wake up and play with husband and their Magna-Tiles. I lie in bed until 4:30.
5:30 p.m. We leave for dinner. We generally go to the same pizza joint every other Saturday night and try to meet up with different friends each time. We often used to entertain at home and I would make fairly elaborate dinners, but as of late we have decided to make our lives easier by meeting friends out. I miss entertaining at home, but that's just not in the cards right now. This time we meet up with a good friend of mine and her husband, who don't have kids. Over the last year, I have been trying to make more of an effort to hang out with our friends without kids; I enjoy their company and appreciate conversations that are not solely kid-focused, to be honest. The boys ask my friends lots of cute questions and manage to stay in their seats in a restaurant for two hours, which I'm grateful for, but we come armed with coloring books/crayons, cars, flashcards, etc., which help (no screens, as kids don't get screen time).
7:45 p.m. We leave the restaurant and come back home — no need to give showers to the kids because they had their showers earlier that day at swimming.
9:00 p.m. Kids are in bed, but they don't fall asleep until 9:30 p.m. I tell myself I should work out but instead start re-reading Marie Kondo's book on organizing.
11:00 p.m. I'm in bed.
Thanks so much to L for sharing a bit of her life as a working mom! Readers, what's your biggest takeaway from her week of work as an appellate attorney for the federal government as well as her general work/life balance?
Stock photo via Stencil.