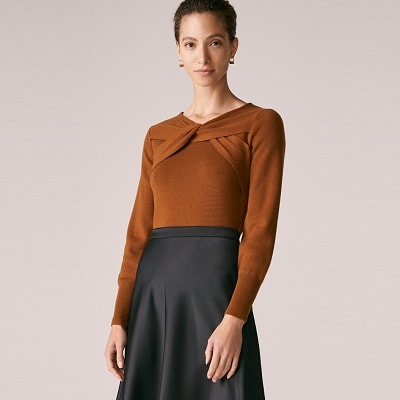 I'm not sure how The Fold found me, but I started receiving their catalogs about a year ago. While their clothes were lovely to look at, most of them were labeled "dry clean only." Well, they must have read my mind — their latest catalog features several machine washable items, including this lovely merino wool-blend sweater.
It comes in two very seasonal and festive colors: toffee and dark green. I love the twist neckline (perfect for all those Zoom meetings and parties) and long cuffs (perfect for pushing up and getting down to business).
For those returning to the office, the sweater's slim cut would pair beautifully with wide-leg dress pants and heels or a flowy midi skirt and tall boots.
The sweater is $245 and available in sizes S–L. Esher Sweater
Looking for other washable workwear? See all of our recent recommendations for washable clothes for work, or check out our roundup of the best brands for washable workwear.