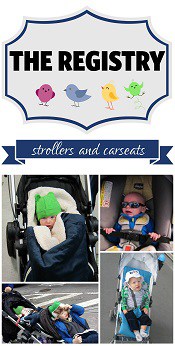 OK, guys, let's do this: the registry series.  What should new moms register for baby gear and more?  Which are your favorite pieces of baby gear — and have they changed through the months and years with kids?  We're going to start with just two categories: the carseat and the stroller.  (I was going to do a big post on all of these categories, but after an hour of writing just about strollers and carseats, I thought I'd break it into smaller posts!)  I envision the entire series going through these categories:
Carseat — necessary from coming home from the hospital!
Stroller — how many have you tried? How many do you keep? (E.g., big stroller, umbrella stroller, jogging stroller)
Sleeping gear — crib and bassinet rocker, if necessary
Clothes — swaddles, sleeping clothes, daytime clothes, baby socks
Babywearing carrier — infant and 15-lb.+
Baby toys — swings, seats, and other Big Things to register for (Exersaucers, etc)
Essential books
Diaper bag
Nursing clothes
Breastfeeding pillow
And one final category: The Biggest Flops (stuff you hated).
My own $.02 on the first two categories (stroller and carseats) are below.